October 18, 2020
Time: 5:00 pm CDT to 6:30 pm
Venue: Live Stream from Parker Jazz Club (no local audience)
Location: https://www.youtube.com/user/hartbeat07 -and - https://www.facebook.com/Womeninjazzaustin
Althea René Band Live Stream Concert
Althea René Band will perform a full live stream concert from Parker Jazz Club in Austin, TX.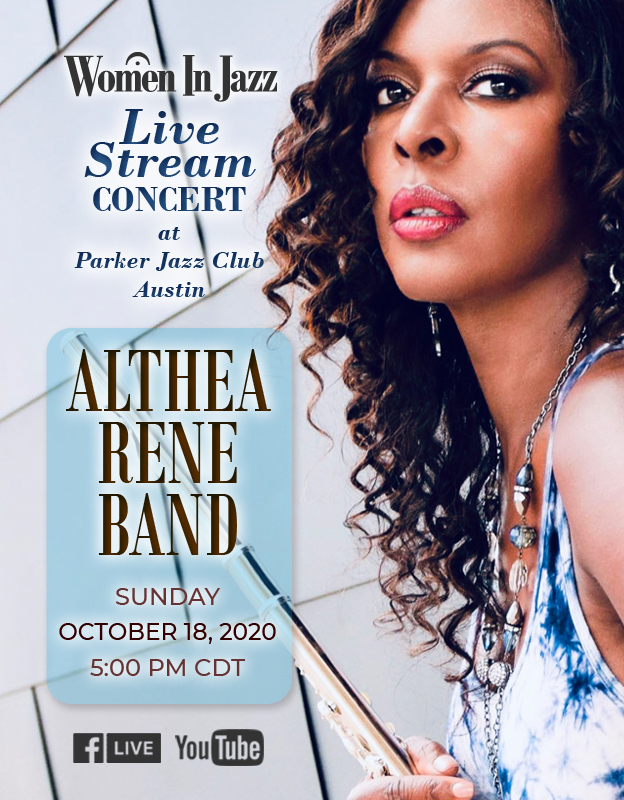 Women in Jazz Association, Inc. is keeping jazz alive and well with a Althea René Band Live Stream Concert from Parker Jazz Club in Austin, TX on Sunday, October 18 at 5:00 PM CDT.   
Born on December 25th in Detroit, Michigan, Althea René began her musical journey at the tender age four-year-old. She studied classical music while attending Howard University. For more than 10 years she worked as a Wayne County Deputy Sheriff (in Detroit, Michigan) during the day and performed in jazz clubs at night. Today, she is a full-time performing and recording artist.
Althea René gained musical inspiration from her father Dezie McCullers (one of Motown's original Funk Brothers). She has since developed her own creative style. Some regard her as a "master of her craft" and one of the world's most exciting solo improvisational flutists. The multi-platinum and Grammy-nominated saxophonist Najee playfully refers to her as the "Maceo of the flute".  The live stream concert is free and accessible from Women Jazz Association, Inc. YouTube and Facebook pages. Donate $100 and be listed as Women in Jazz sponsor. Go to
www.paypal.me/womeninjazz
Due to COVID-19, No audience, fans, or patrons may be admitted in the venue / premise.
This live steam concert will be presented on both YouTube.com and Facebook.com.  Access the links below for more information and set a reminder.
Attend the Althea René Band Live Stream Concert at:
or
This project is supported in part by the Cultural Arts Division of the City of Austin Economic Development Department and a grant from the Texas Commission on the Arts.