April 16, 2023
Time: 5:00 pm
Venue: KMFA Draylen Mason Music Studio
Location: 41 Navasota Street, Austin, TX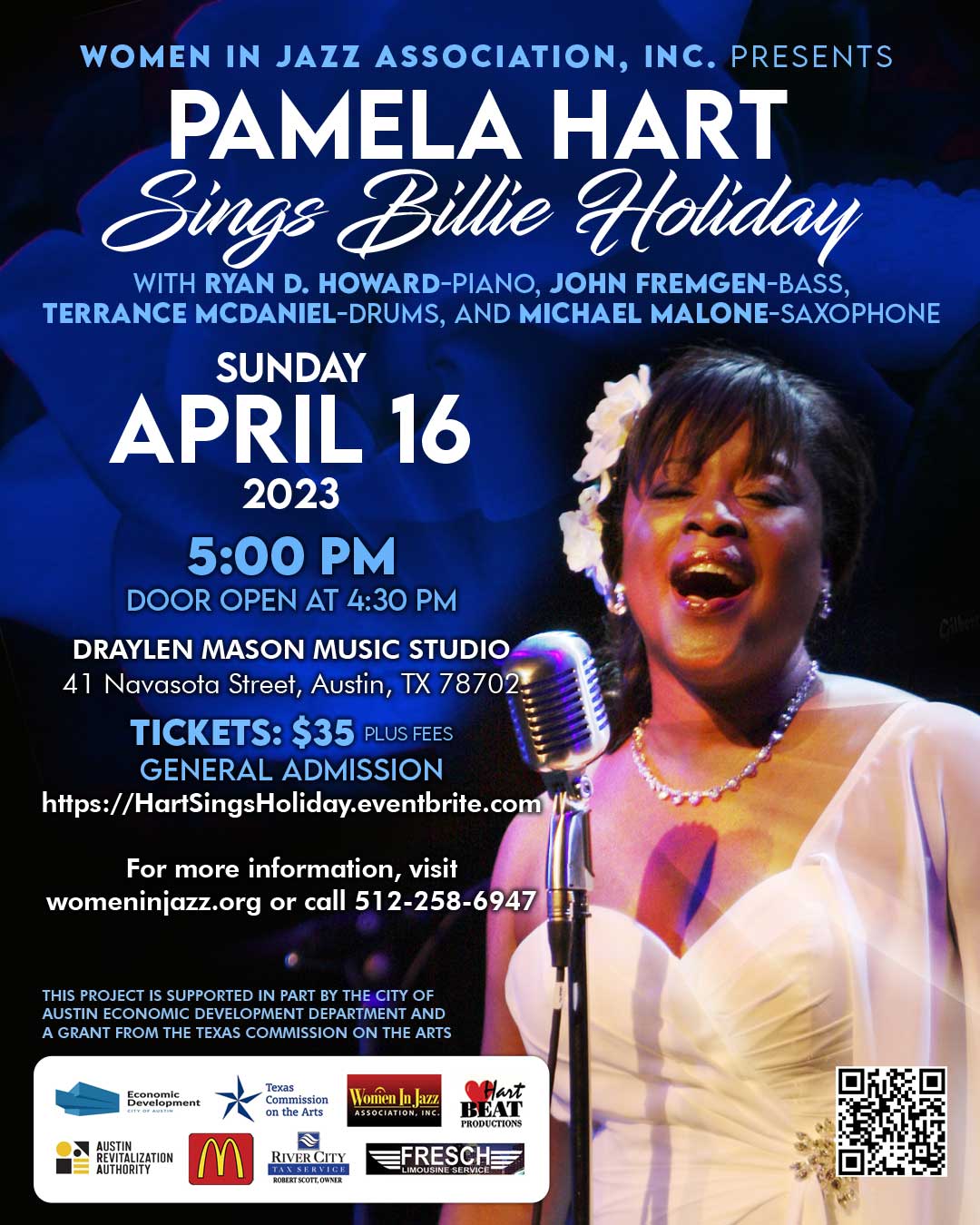 Women in Jazz Association, Inc.
presents
Pamela Hart
Sings Billie Holiday
Sunday, April 16, 2023

with
Vocalist Pamela Hart
Pianist Ryan D. Howard
Bassist John Fremgen
Drummer Terrance McDaniel
Saxophonist Michael Malone
KMFA Draylen Mason Music Studio
41 Navasota Street, Austin, TX

Doors open at 4:30 pm
Showtime at 5:00 pm
$35.00 Per Ticket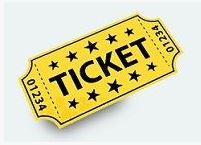 All seats are General Admission

For more information, go to: womeninjazz.org or call 512-257-6947.


Pamela Hart performs Billie Holiday songs in an all-star show featuring Ryan D. Howard on piano, John Fremgen on bass, Terrance McDaniel on drums, and Michael Malone on saxophone. Pamela has a passion for Billie Holiday's vocal style.
Billie Holiday
Billie Holiday (born Eleanora Fagan; April 7, 1915 – July 17, 1959) was an American jazz and swing music singer. Nicknamed "Lady Day" by her friend and music partner, Lester Young, Holiday had an innovative influence on jazz music and pop singing. Her vocal style, strongly inspired by jazz instrumentalists, pioneered a new way of manipulating phrasing and tempo. She was known for her vocal delivery and improvisational skills. 
Pamela Hart
Vocalist Pamela Hart came from a household filled with jazz recordings and her mother's singing. Hailed by Austin Woman Magazine as the "Austin's First Lady of Jazz",  Pamela continues to love singing jazz since age five. Pamela has a love for Billie Holidays interpretation and style.

Pamela is highly regarded as one of Austin, Texas' finest vocalist. She is noted by Austin Women's Magazine as "Austin's First Lady of Jazz." Pamela and her husband Kevin Hart produced (and she has performed in) the semi-annual Women in Jazz Concert Series—the greatest events for female jazz musicians in Texas—1994 to date. Pamela was also inducted in the Austin Jazz Society Hall of Fame in 2018. Professional, unique, & captivating — Pamela Hart performs locally, regionally, and nationally for Concerts, Festivals, Weddings, Corporate Events, Banquets, & Night Clubs. She has repeatedly opened shows for, and shared stages with, many popular artists including Miss Nancy Wilson, Dianne Reeves, Nat Adderley, Jr., Kirk Whalum, Rachelle Ferrell, Norman Brown & Richard Elliot. Sheltered but not stifled during covid-19, Pamela hosted livestreaming House Concert Series almost every Sunday in conjunction with the Women in Jazz Association, Inc. on Facebook from March through December 2021. She also participated in the Austin Jazz Society's Project Safety Net, a fundraiser to assist local musicians with financial hardship. Nothing has stopped Pamela's passion to perform jazz and keep it alive! Pamela's CD, Happy Talk, released on May 1, 2021. Here is Pamela Hart performing "The Best is Yet to Come" https://www.youtube.com/watch?v=_tOuOx6ufP0