December 11, 2022
Time: 6:00 pm
Venue: Sterling Events Center
Location: 6134 US 290 Austin TX 78752
TR3PLE THREAT
featuring
Gina Payne,  Yo Jonesy, Theresa Grayson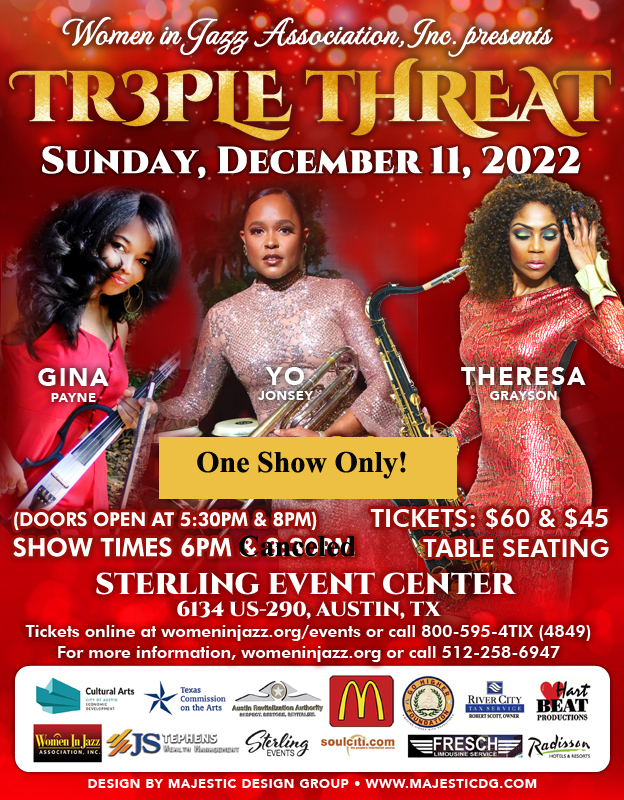 PLEASE NOTE THE 8:30 PM SHOW IS NO LONGER ACTIVE.
Sunday, December 11, 2022
Show at 6:00 pm
at the
Sterling Event Center
6134 US 290 Hwy East, Austin TX
This combination of singers /instrumentalists,  Gina Payne on violin, Yo Jonesy on trombone, and Theresa Grayson on saxophone, is the perfect mix for a dynamic evening of smooth jazz, old school R&B, and holiday music supported by the band, M.I.C.R.A., Inc.
This is going to be a real fun show!
Gina J. Payne – Violinist / Vocalist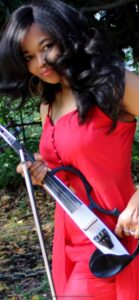 The daughter of late educators Wendell O. and Bessie J. Jordan of Hampton, Va., GINA J. PAYNE completed her undergraduate studies in Public School Music at Norfolk State University under the instruction of former Concert Master for the Virginia Symphony violinist Dr. Peter Zaret. Gina is also an alumnus of the Graduate College of Hampton University. She holds a B.A. degree in Public School music and a M.A. degree in Community Agency Counseling. Gina holds dual State of Virginia endorsements for Public School Counseling and Public School Music. She is the mother of one son Clarence Jordan Payne. Gina began playing violin in the Hampton Public Schools under the instruction of the late Margret "Ma" Davis along with Ms. Dianne Chapman.
Gina has performed with various groups in the Tidewater area such as Forte Jazz Band, the "Church Band," Ty Marquis Smith and "Pure Chemistry" bands of Hampton Roads. She has also performed as a solo artist at many venues in the Hampton Roads Area as well as Norfolk and Richmond Jazz Festivals. Gina has also performed at the Blues Alley in Washington D.C. She has an upcoming CD entitled "High Strung" produced by Martin Blockson.
Jonesy Jones – Trombonist / Vocalist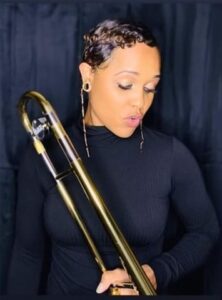 Born in the small city of Mobile, AL., Yolanda V. Jones better known by her stage name YO JONESY JONES -singer, songwriter, and musician known to many. Yo Jonesy perfected the art of bringing to life a diverse mix of Pop, Rock, Blues, R&B, Jazz, Hip Hop, and Reggae through her music while embracing all genre styles as a harmonic expression of her life.
Yo Jonesy realized at a young age that music was her passion. She loved mimicking her mother singing soulful songs around the house. At only five years old, Yo Jonesy was the lead vocalist of her family's gospel band. Born into a family of talented musicians, Yo Jonesy decided to master the trombone and many other musical instruments, which lead her to become a percussionist, guitarist, as well as a skillful tap dancer.
Residing San Diego, Ca  Yo Jonesy has finished her studies in music while
Yo Jonesy stated enthusiastically in her recent interview "It is time to take this music to the next level and make an impact on the world at the same time!". Her expressive music and contagious personally led her to become the cover girl of MOBILE BAY MAGAZINE.
Yo Jonesy's mission is to spread the L.I.P. Live in Peace" message around the globe through her music. Jonesy recently released the Jonesy 3: 16 Crowned Jewelz Album which is now available on iTunes and all digital music stores.
For the last seven years, Yo Jonesy has been nourishing the world with her soulful tunes and by interacting and connecting with her fans as she's famous for riding her hoverboard while performing.
Theresa Grayson – Saxophonist / Vocalist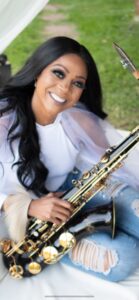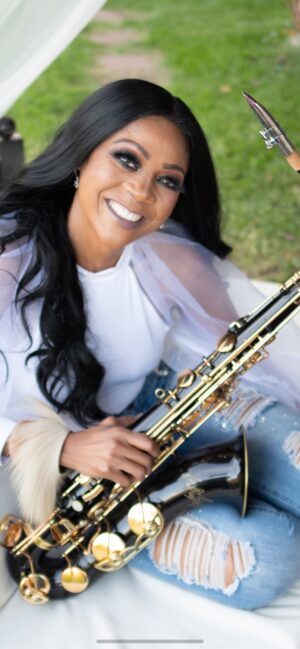 THERESA GRAYSON is a music educator and saxophonist in the Houston area. While embarking on her solo career. Gospel saxophonist. The Texas based saxtress has Performed in her home town of Houston. And most of the state's major Cities with her own band, and two Renowned cover ensembles.
She has since shared the stage and opened for notable contemporary jazz artists like, peter white, Marion Meadows, Mindi Abair and Ronnie laws, as well as vocalist Michael Bolton and will downing over the years. Grayson has performed at the 3rd Annual soul fest in Austin Texas. Redcat jazz festival, Zachary Breaux Jazz festival, women in jazz festival, Baltimore, Maryland's aframed festival, long Beach jazz festival, one cruise, Yolanda Adams wellness tour, dr. Bobby jones gospel artists show case, Vail, Houston International Jazz Festival.
From the socially conscious, spoken word intro on the jazzy grooving track "Atmosphere," through the multicultural fusion of "World Kall" (featuring chanting vocals, Eastern instrumentation, African percussion, Latin guitar, violin, and tropical vibes), Grayson devotes herself to a mission to make her full-length collection, World Blue, a true global journey celebrating the multi-cultural magic of music.
Band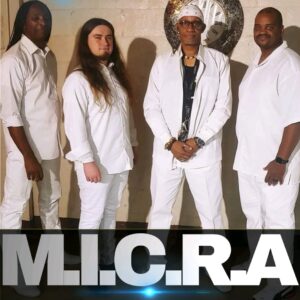 These TR3PLE THREAT is supported by M.I.C.R.A., Inc. featuring
Dr. Scottie "Mudbone" Jones (Musical Director/Percussion)
Wayne Gray/(Keyboard)
Allon Morris (Drums)
Cameron Murrell (Rythym and Lead Guitar)
Jeff Lewis (Bass Guitar)