March 24, 2023
Time: 7:30 pm
Venue: Monk's Jazz Club & Live Stream
Location: 501 Pedernales Street, Suite 2E, Austin, TX 78702
March is Women's History Month
Women in Jazz Association presents
"Celebrating Women in Jazz" Concert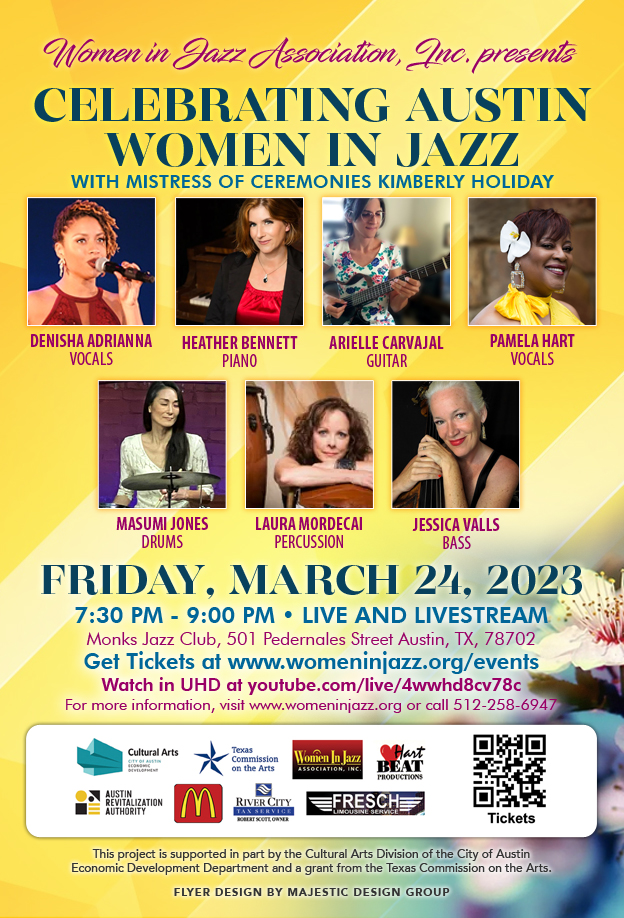 featuring
vocalists Pamela Hart and Denisha Adrianna
pianist Heather Bennett, guitarist Arielle Carvajal
bassist Jessica Valls, drummer Masumi Jones, percussionist Laura Mordecai
with
Emcee Kimberly Holiday

Friday, March 24, 2023
Presented at Monk's Jazz Club
501 Pedernales, Suite 2E, Austin TX 78702
Livestream Performance
Watch in UHD at youtube.com/live/4wwhd8cv78c
DONATE to SUPPORT the SHOW
The Performers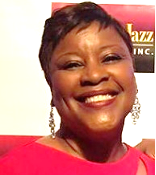 Pamela Hart – Vocalist

Pamela Hart, highly regarded as Austin, Texas' finest jazz vocalist. Noted by Austin Women's Magazine as "Austin's First Lady of Jazz," audiences rave about Pamela's excellent pitch, clarity and soothing vocal quality.  Her warm, clear tones and meticulously controlled pitch carry an illusion of effortlessness. Pamela's sultry rendition of classic jazz standards, smooth jazz, contemporary & R&B music wins immediate acceptance by any audience. Professional, unique, & captivating… the Pamela Hart performs locally, regionally, and nationally for Concerts, Festivals, Weddings, Corporate Events, Banquets, Night Clubs, and studio recording sessions. Pamela and quartet band have repeatedly opened shows for, and shared stages with, many popular artists including Miss Nancy Wilson, David 'Fathead' Newman, Dianne Reeves, Nat Adderley, Jr., Kirk Whalum, Rachelle Ferrell, Patrice Rushen, Teri Lyn Carrington, Norman Brown & Richard Elliot, Jazz in Pink with Gail Jhonson, Bobbi Humphrey, Althea Rene, Jeanette Harris, Carmen Bradford, Kyle Turner, Michael Ward, and many more. Pamela's appreciation for the great masters of jazz and R&B is apparent in her intonation, grace and style.  She is also a vocal coach and loves educational music youth programs. She was inducted in the Austin Jazz Society Hall of Fame in April 2018. On September 1, 2020, she received the Malindy Award (honoring the Paul Lawrence Dunbar poem "When Malindy Sings") from the JR Cumberbatch Productions, "If These Walls Could Talk" team, and preceded with many other awards and noteworthy recognitions.
Denisha Adrianna – Vocalist
Denisha is a Texas-native singer, songwriter, and vocal producer who always felt called to the arts. Throughout grade school she participated in her local church and school choirs, where she was selected to sing in the DFW metroplex choir, UIL competitions, all region choir. Denisha furthered her Education at the University of North Texas, where she got her degree in kinesiology. After graduating from UNT, Denisha moved back to Austin in search of a new beginning. Since being back in Austin she has had the opportunity to sing backgrounds for various artists, be a part of an amazing collective and direct vocals in Austin's very own Stretch Musik Band, and cultivate her own sound in the music industry.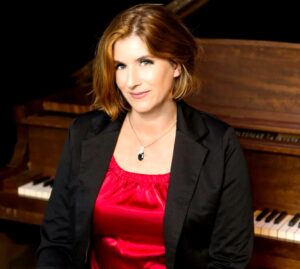 Heather Bennett – Piano
Jazz pianist vocalist and composer Heather Bennett has many years of experience as a musician, educator and music director. In 2018 was her latest full CD release and first vocal recording, "Lazy Afternoon" (Summit Records). Since then, she has been recording various original Gospel tracks, released independently on Spotify.  Ms. Bennett began her performing career in Austin, TX where she produced two instrumental CDs of her original material.  In 1997 she made the move to NYC where she produced three more original jazz recordings for Apria Records. She had the opportunity in NYC to study extensively with Richie Beirach and then later with Sal Mosca, Heather has worked as a teaching artist in the NYC schools for over 20 years, while also enjoying many performing opportunities. She has worked extensively as a music director at various churches of different faiths since 1999.  She is currently organist and music director at Presbyterian Church of Teaneck since 2014. She has performed and/or recorded with: Billy Hart, Rufus Reid, Dennis Irwin, Will Lee, Dave Pietro, Roseanna Vitro, Ada Rovatti, Randy Brecker, Ingrid Jensen, Greg Tardy, Ed Schuller, Rick Margitza, Joe Cohn, Danny Walsh, Daniel Carter, Pamela Hart, Ratzo Harris, Jaz Sawyer, George Schuller, Ari Hoenig. Mike Pope, Tim Horner, Bill Mobley, Pete McCann, Donny McCaslin, and Mike Richmond among others.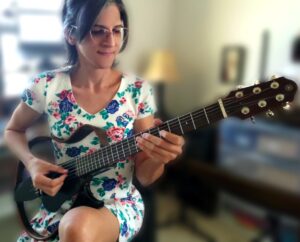 Arielle Carvajal – Guitarist
Arielle Carvajal is based in Austin, Texas, and performing throughout the state and across the country in the jazz and singer-songwriter genres. Arielle Carvajal (or Ari, as Austinites know her) has spent her career honing the craft of fine electric and acoustic guitar, in addition to churning her bands forward with deft electric bass work.  After graduating from Texas State University and relocating to Austin, Ari quickly became a sought-after accompanist for many of the town's premier vocalists, including Paula Maya, Candy DeClue, Kenny Williams, Chloe Youtsey, and Lex Land, performing alongside them on stage and on a variety of studio recordings. In addition to multiple festival performances, she has also appeared on a variety of central Texas television and radio stations, including Austin's KUTX 98.9, and San Antonio's KRTU 91.7, NEWS4 WOAI, KENS5, and KSAT12. She also regularly works with ZACH Theatre and the Austin Symphony Orchestra, with local high schools in support of their music, arts, and theatre programs, and with local charitable organizations such as Austin Pets Alive.  Performing with musicians such as Melissa Raquel, Kenny Williams, and Chris Jones, Ari is currently party to multiple residencies around Austin, with recurring shows at Shore Raw Bar and Grill, Ichiro Asian Bistro in Georgetown, Geraldine's at the Hotel Van Zandt, and Parker Jazz Club. She also regularly releases recorded content through her AJCJazz and carvajazz brands on Instagram and Soundcloud.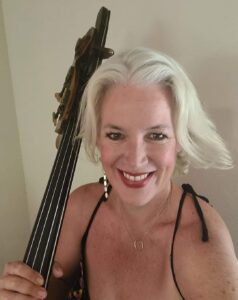 Jessica Valls – Bass      
Double bassist Jessica Valls is an Austin, Texas-native musician who exemplifies the ubiquitous artistry of a true music lover, heeding to no one genre, discipline, or stage. Performing regularly with several orchestras including the Austin and San Antonio Symphonies, Jessica is previous principal bassist for Orquestra da Rádio e Televisão Cultura in São Paulo, Brazil, and enjoy traveling to Brazil to perform and teach. She appears with chamber ensembles, jazz, tango and bluegrass bands, in studio recording sessions, on film soundtracks, television and radio jingles, and popular festival stages around the world such as The International Festival at Round Top and Encontro Brasileiro de Contrabaixos in Goiânia, Goiás, Brazil.  Currently Dr. Valls is on faculty at Southwestern University, Huston-Tillotson University, The Girls' School of Austin and maintains a private studio of budding string players of all ages.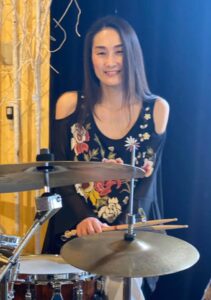 Masumi Jones – Drums

Masumi Jones moved to the US from Japan to study at Berklee College of Music in 1995. Since settling in Austin, she has been playing with many Austin bands such as Alex Coke Quartet, Mitch Watkins Trio, Jitterbug Vipers, Sarah Sharp, 35mm, Austin Jazz Workshop, Tapestry Tap Dance Company, and more.  Her group 'Masumi and the Gentlemen' had a weekly residency at Lamberts BBQ downtown from 2011 to 2017 and had live streaming shows weekly on the Lunch with Masumi website.  The reunited Japanese piano trio G.G. (former Groovin' Girls in 90's in Boston) was featured in the short documentary film 'Jazz Abroad' in 2016, and also was featured on the NPR Live Sessions 'Love Austin Music Profile' on March 2020.
Laura Mordecai – Percussion
Laura Mordecai is a percussionist and harmony vocalist for Stephanie Urbina Jones, Robin Mordecai and Javier Chaparro and Salúd.  She's recorded with these plus others including the legendary Beto y los Fairlanes.  Laura is a member of the Recording Academy having proudly served terms as a Texas Chapter board member, Chapter Secretary and as Vice-President.  She currently continues to serve as a member of the Chapter's Education Committee.  She is also a member of the American Federation of Musicians (AFM Local 433), Austin Texas Musicians and a founding member of the Austin Jazz Society.