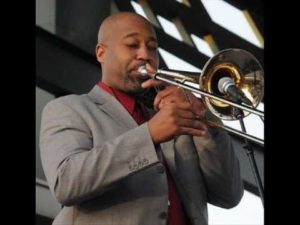 Women in Jazz co-featured Andre Hayward in the Legends of Jazz Tribute Concert on Sunday, September 11, 2015 at the One World Theatre, Austin, TX.
Andre Hayward is an extremely gifted trombonist with the sound and clarity reminiscent of the late J.J. Johnson. His gospel-tinged approach is refreshing and will warm the hearts of anyone he comes in contact with.
Born in Houston, Texas in 1973, Hayward's first exposure to the world of music was through his parents, Melvin and Barbara Hayward where musical talent exists on both sides. Hayward began playing trombone and tuba at the age of 11 under the tutelage of Leon Schreiber and 2 years later with Bob Odneal who was lead trumpeter for Maynard Ferguson. Hayward continued playing through high school where he attended the High School for Performing and Visual Arts under the direction of notable jazz educator,Robert "Doc" Morgan. He continued to hone his skills with Houston's legendary educator,Conrad O. Johnson. It was Conrad's instruction, and the opportunity to work in his big band,"The Big Blue Sound", where he really started to gain experience working in an ensemble.
Hayward currently serves as Jazz Trombone Specialist at University of Texas – Butler School of Music and Jazz Trombone Professor at University of North Texas – Division of Jazz Studies