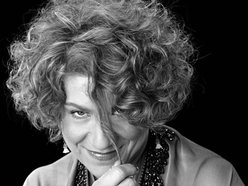 A native New Yorker, Donna Menthol started thrilling audiences at 11 years, of age, singing, dancing and acting in shows in the Catskill mountains. Music runs in the family. American composer Aaron Copeland , Danny Kaye and Mom who was a specialist on the piano-she could play any song she heard on the radio–but only in the key of C! Donna's brother was the 'first trumpet' in Music and Art High School. You may say Donna inherited her good ear from her mother. After Donna took piano lessons for three years, her teacher discovered she had played her lessons by ear and never read the music! Later Donna made up for lost lessons and went back to her studies.
Donna's singing career took off in her twenties. She traveled across the country for 13 years with her own ever evolving bands.In New York,. She sang at clubs such as Sweet Basil's in the West Village and Scrambles in Soho. At Sweet Basil's she sang with Kenny Barron, Richard Davis (bass player for Sarah Vaughan) who is now head of the University of Wisconsin's Music Department, Jon Faddis, Ricky Ford, and Freddie Waitts. At Scrambles,she sang, accompanied by Lloyd Lifton, a disciple of Lenny Tristano, and with Larry Arlotta, the keyboardist for Blood Sweat and Tears. Some people were lucky enough to hear her sit in with Bob Dourough. She also played with George Mitchell, Lynn Keller, Ron Brown, and Mel Brown (from the Diana Ross rhythm section), and she has opened for such renowned artists as The Lettermen and Dionne Warwick.
Attracted by the vibrant jazz scene in Austin, Donna drove down to Texas in her Volkswagen and sat in with the James Polk Quintet. This began a long musical collaboration with James Polk, who played keyboards and arranged for Ray Charles.