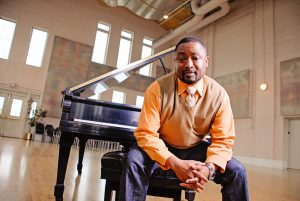 Fredrick Sanders, pianist, was featured in Women in Jazz's Legends of Jazz Concert on Sunday, September 4, 2015 at the One World Theatre.
Fredrick's masterful piano style, replete with youthful-yet seasoned chords, has been enthusiastically enjoyed by audiences ranging from heads of state to elementary school. He began studying classical cello at the age of 10. He excelled at cello winning awards for outstanding performances.
In 1992 Fredrick was afforded the opportunity to study with jazz legend Alvin Batiste and pianist/conductor Frank White at Southern University in Baton Rouge, LA. Sanders' skill and execution on piano won him a position in a group of musicians that accompanied Alvin Batiste at the De Oosterport Groninga New Music festival in Amsterdam and appear on Alvin Batiste CD entitled "Late."
In 1994, his music and academic pursuits took him to Southwest Texas State University. While there, Sanders performed with a Downbeat Award winning combo that was featured at the Montreaux and North Sea Jazz Festival. Sanders performed at several national and international jazz festivals and appearing with such artist as Erykah Badu, Frank Foster, David Newman and Roy Hargrove.
The release of Fredrick's 1997 debut CD entitled "East of Vilbig" on Leaning House Records received rave reviews from periodicals such as Austin Chronicles, The Jazz Attic, The Dallas Morning News and Dallas Observer. He was also featured in Jazztimes and appeared on "BET" on Jazz. This recording reunited Fredrick with his high school friend Roy Hargrove, who is also joined by Texas Tenor Marchel Ivery, guitarist Mark Whitfield, bassist Roland Guerin and drummer Donald Edwards.
In recent years Fredrick Sanders has been commissioned by Wynton Marsalis to accompany and record with the Lincoln Center Jazz Orchestra on piano. He has also recorded with notable artist such as Nora Jones, David Newman, and Doctor John.
In 2003 Fredrick Sanders released his greatly awaited sophomore recording entitled "Soul Trinity vol.1" featuring bassist Rodney Whitaker and drummer Troy Davis. The CD was featured at the New Orleans Jazz and Heritage Festival.
He has given performances at Chopin Conservatory of Music in Warsaw, Poland, Den Haag Netherlands, and Ontario Canada. Touring Japan, Europe and our great country has allowed him to teach and learn from the most prominent thinkers and institutions of higher learning in the world.