On April 5, 2013, Women in Jazz proudly presented JaZz in P!nk at the Stateside Theater at the Paramount.
JaZz in P!nk is the "Best La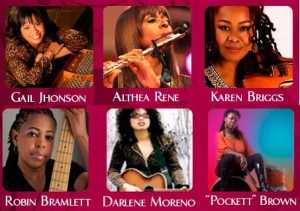 dies Jazz Group Around." Back by popular demand, this all star female ensemble of musical women in jazz exemplifies talent, beauty, power and femininity as they embrace the stage! Their mission is to promote women in jazz by providing live performance opportunities showcasing each others music. They endeavor to provide educational opportunities and mentorship to upcoming rising stars.
In 2004, Keep The Music Playing, keyboardist Gail Jhonson's highly acclaimed debut contemporary jazz CD on her own (Philly The Kid Records), brought her into the international recording spotlight. Gail works as the music director, keyboardist and vocalist for smooth jazz super star guitarist and vocalist Norman Brown where Gail is quite busy. In 2005 the nations highly successful and much anticipated Norman Brown's Summer Storm Tour was launched with special guest Peabo Bryson, Everett Harp & Brenda Russell followed by the major success of the 2006 Summer Storm 2 Tour with special guest Patti Austin, Alex Bugon and Paul Taylor. She remains the music director for Norman Brown with her latest CD "Gail Jhonson, Her Story" she is an international sensation.
Violinist Karen Briggs spent thirteen years touring and recording with Yannni, and was nicknamed "The Lady in Red." Briggs made her Carnegie Hall debut in 1994, performing with pianist Dave Grusin. She has also performed with a number of other artists over the years, including Stanley Clarke, the Wu Tang Clan, En Vogue and Chaka Khan, Wynton Marsalis, Stanley Clarke, just to name a few.
Having studied music at Howard University, flautist Althea René has developed her own unique style. Her latest CD release "No Restrictions" has a unique urban contemporary flavor with a jazzy / R&B twist. She's become so popular that was invited, as a featured artist, on Brian Culbertson's prestigious Smooth Jazz All-Star Cruises. We have seen her in Austin before putting her whole body and soul into her playing.
Each of these unique performers became a unit of harmony, grace, soul and grooves. The band also included female artists with Guitarist Darlene Moreno, Bassist Vivi Rama and Drummer Danielle "Pockett" Brown accompanying the headlining artists.