Peggy Stern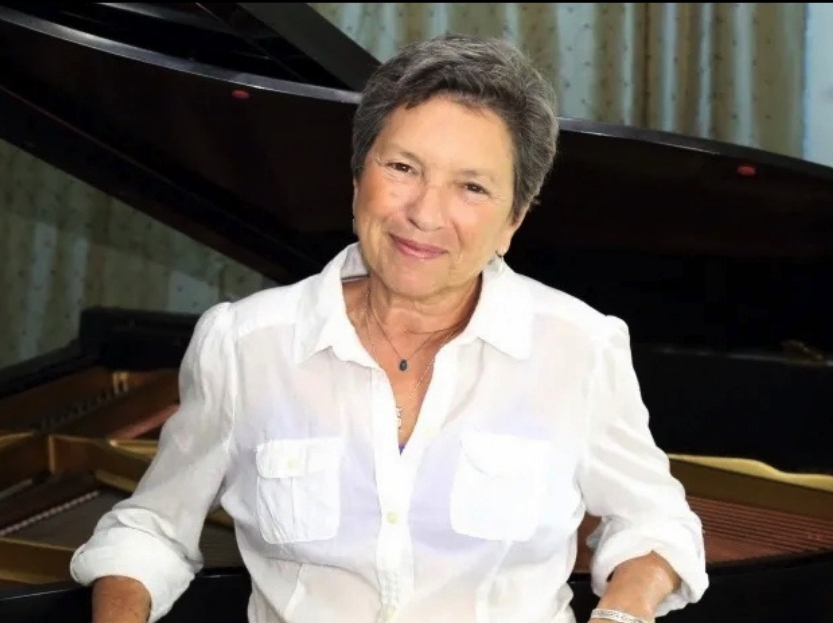 Peggy Stern has composed, played, recorded, and toured in a wide variety of situations: from solos to octets to jazz choruses. Her compositions range from highly original pieces to reharmonized jazz standards. "Everything she writes wants to dance, " says Ken Dais of Jazziz.
Peggy's background would account for her varied musical tastes. She began playing classical piano at an early age, continuing her studies at the Eastman School of Music, and finishing a Masters Degree, still in Classical music, at the New England Conservatory. And then she began to improvise. While living in San Francisco, she played in salsa bands, notably Azteca and Supercombo with Benny Vallarde. She did a stint in an R&B band (called Cat's Cradle) with singer Linda Tillery, and was "instructed" by Paul Jackson (bass) and Mike Clark (drums) of Herbie Hancock's Headhunter band.
Subsequently, Peggy moved to New York, absorbing the piano stylings of the greats, such as Jimmy Rowles and Tommy Flanagan. Peggy has worked and toured with many wonderful musicians: Lee Konitz, Diane Schuur, David "Fathead" Newman, Jay Clayton, Gary Peacock, Gene Bertoncini, Bud Shank, Red Holloway, Thomas Chapin, Machito, Puck Fair, Bobby Shew, Stanley Turrentine, Gerry Mulligan, Eddie Henderson, Emily Remler, to name a few.
Peggy has toured throughout Europe, the US, Canada, Australia, and Japan. In addition, Peggy has worked as an educator for the past 20 years, at colleges in the US. She has given workshops throughout Europe (Switzerland, Sweden, Denmark, Italy), and the US.
Since May 2013, Peggy makes her home in Austin, Texas, to be near her family. Joining the vibrant music scene there, she intends to create a new (for her) musical genre, to add to her already eclectic tastes (Latin, Classical, Brazilian, Progressive and Free jazz, etc). She calls it Cowboy Jazz, with a 2017 release entitled Shine On. 2015 saw the release of her 13th CD, a chamber jazz recording entitled Z Octet. Peggy contines performing at local Austin venues: Milano Cafe, The Elephant Room, Central Market, ABIA, Monks Jazz. Several Austin Jazz Society concerts have been added to her busy schedule.
In 2004, Peggy created the Wall Street Jazz Festival ("where the traditions meet the progressives, and all the leaders are women") in Kingston, NY; the Festival was held twelve consecutive years to date. In 2017 Peggy introduced LuluFest, currently approaching its sixth year, an eclectic music festival again featuring women leaders. Over the years, the Festivals have featured Sheila Jordan, Ingrid Jensen, Christine Jensen, Jay Clayton, Dena DeRose, Su Terry, Claire Daly, Jamie Baum, Teri Roiger, Roberta Piket, Virginia Mayhew, Laura Dubin, Sheryl Bailey, Allison Miller, Maryann McSweeney, Marilyn Crispell, Francesca Tanksley, Erica Lindsey, Sara Caswell, Albanie Faletta, Suzi Stern, Leeann Atherton, Emily Gimble, Rose Sinclair, Nina Sheldon, Betty MacDonald, Rebecca Coupe Franks, Jenny Scheinman, Natalie Cressman, Amy Shook, Jane Bunnett and Maqueque, Dawn Clement, Carrie Rodriguez, Pamela York, and Peggy Stern's band Estrella Salsa. There is a Retrospective Film, completed in June 2022, available for viewing: www.lulu-fest.com.
For more information, music, videos, photos and performance schedule, visit https://peggystern.com/