Rachel Spencer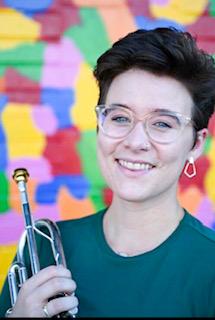 Rachel Spencer A versatile and engaging performer, trumpeter Rachel Spencer's career has been rich and fulfilling. From big bands to orchestras, brass bands to brass quintets, Rachel is known for her stylistic prowess in a wide range of genres, as well as her clear and expressive tone. Ms. Spencer has shared the stage with many incredible musicians such as Bill Watrous, Sean Jones, Grace Kelly, and Randy Brecker, among others. Her music has afforded her travel opportunities nationally and internationally; She has performed at TMEA, OMEA, the Tanglewood Music Center, and has traveled to Hong Kong as a featured performer in the Chinese New Year Parade. While a graduate student at the University of Texas, she was a member of the UT Wind Ensemble, Symphony Orchestra, New Music Ensemble, and was a semifinalist in the National Trumpet Competition graduate solo division. In addition to her performing accomplishments, she was the Director of the Longhorn Jazz Ensemble. As a member of DCI, Rachel was a member of the Bluecoats for 5 years as a lead trumpet player, soloist, and horn sergeant, winning bronze, silver, and gold with the corps.
A passionate and well-rounded teacher, Rachel is devoted to the forward motion of music education and is dedicated to teaching students from all walks of life. Having served as a clinician and freelance teacher for over 10 years, Rachel also has 3 years of experience as a band director and currently serves as Education Coordinator and Winds Caption Head for the Bluecoats SoundSport team, Rhythm in Blue. She is a founding member of Jazz Girls Texas, a Production Central coordinator at the annual Jazz Education Network Conference, and has served on faculty at Longhorn Music Camp. Currently, Rachel is a freelance musician, educator, and serves as the Associate Director for New School of Music Austin.
Rachel holds a Master of Music degree from the University of Texas at Austin in Music and Human Learning, a Bachelor of Music from Capital University in Jazz Studies and is currently completing her Doctoral studies at the University of Texas in Jazz Performance where she is a Graduate Teaching Assistant. Her major teachers and influencers include: Rob Parton, Lou Fischer, Marie Spezalie, and Wiff Rudd.
In her free time she enjoys reading, playing with her cats, exercise, and going hiking with her partner. Rachel plays on a Lotus Universal Max trumpet.  Visit Rachel's website at: https://www.rachelspencermusic.com/