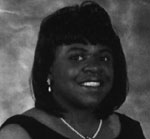 Born in New Orleans, Sheila Sanders was greatly influenced by the strong musical heritage of her city. She began singing at age twelve as a member of world-renowned Greater St. Stephen's Full Gospel Choir. Sheila attended Southern University where she studied under Jacqueline Paige-Green of the New York Metropolitan Opera Company. While at the university, she was lead vocalist with Billy Maiden's Big Band and had her own band called Sheila Sanders & Company.
Ms. Sanders moved to San Marcos, Texas in 1994 to study composition as graduate student at Southwest Texas State University. She performs in the area, and teaches private voice lessons.
In 1996, Ms. Sanders performed in the North Sea Jazz Festival in Amsterdam and the Montreaux Jazz Festival in Switzerland.