Yo' Jonesy – Trombonist / Vocalist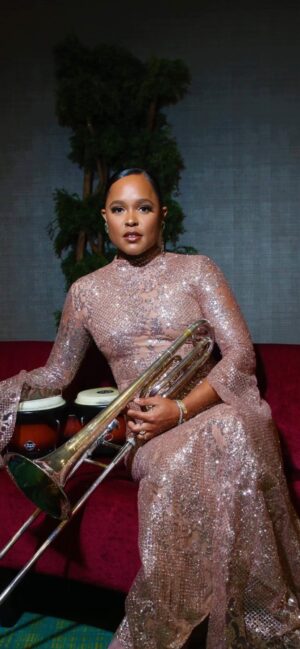 Born in the small city of Mobile, AL., Yolanda V. Jones better known by her stage name YO' JONESY JONES -singer, songwriter, and musician known to many. Yo Jonesy perfected the art of bringing to life a diverse mix of Pop, Rock, Blues, R&B, Jazz, Hip Hop, and Reggae through her music while embracing all genre styles as a harmonic expression of her life.
Yo Jonesy realized at a young age that music was her passion. She loved mimicking her mother singing soulful songs around the house. At only five years old, Yo Jonesy was the lead vocalist of her family's gospel band. Born into a family of talented musicians, Yo Jonesy decided to master the trombone and many other musical instruments, which lead her to become a percussionist, guitarist, as well as a skillful tap dancer.
Residing San Diego, Ca Yo Jonesy has finished her studies in music while
Yo Jonesy stated enthusiastically in her recent interview "It is time to take this music to the next level and make an impact on the world at the same time!". Her expressive music and contagious personally led her to become the cover girl of MOBILE BAY MAGAZINE.
Yo Jonesy's mission is to spread the L.I.P. Live in Peace" message around the globe through her music. Jonesy recently released the Jonesy 3: 16 Crowned Jewelz Album which is now available on iTunes and all digital music stores.
For the last seven years, Yo Jonesy has been nourishing the world with her soulful tunes and by interacting and connecting with her fans as she's famous for riding her hoverboard while performing.
Yo' Jonesy performed in the Women in Jazz production – 'Tr3ple Threat in Concert' featuring Gina Payne, Yo Jonesy, Theresa Grayson on December 11, 2022 at the Sterling Event Center in Austin. TX. The referenced live steam concert is available for viewing on YouTube.com. This is the promo leading into the show. https://youtu.be/miSKoGFeu98
This project was supported in part by the Cultural Arts Division of the City of Austin Economic Development Department and a grant from the Texas Commission on the Arts.