November 18, 2023
Time: 6:30 pm
Venue: Millennium Entetainment Complex
Location: 1156 Hargrave Street, Austin, TX 78702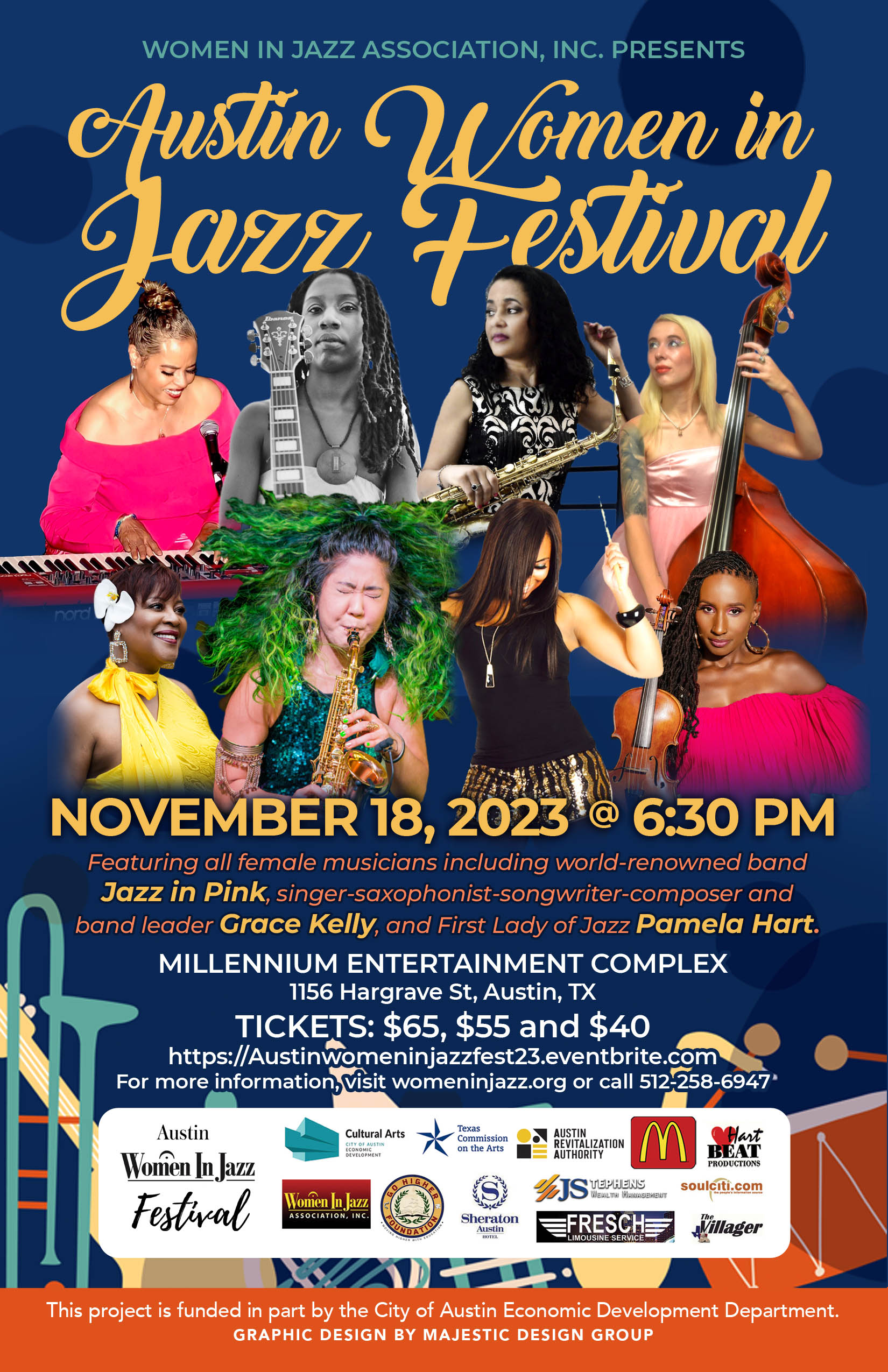 Austin Women in Jazz Festival
~ FINALE ~
Saturday, November 18, 2023
Millennium Entertainment Complex
1156 Hargrave St., Austin, TX.
Doors Open: 5:30 pm
Showtime: 6:30 pm
https://Austinwomeninjazzfest23.eventbrite.com
(reserved seating)

featuring
Jazz in Pink, Grace Kelly, Pamela Hart
Women in Jazz Association presents the first annual Austin Women in Jazz Festival featuring Jazz in Pink, Grace Kelly, Pamela Hart on November 18, 2023 at 6:30 pm. 
Get ready for a continuous flow of infectious melodies and funky grooves delving into jazz, smooth jazz, funk and old school R&B. The festival will feature all female musicians including world-renowned, all-star band, Jazz in Pink, singer-saxophonist-songwriter-composer and band leader Grace Kelly, Austin's First Lady of Jazz, Pamela Hart.
For more information, visit womeninjazz.org or call 512-258-6947.
Jazz in Pink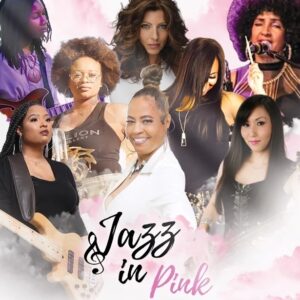 Jazz in Pink is the world-renowned, all-female, all Star band based in Los Angeles, CA. For 15 years, Jazz In Pink has emerged as one of the world's most prominent and popular all-female, ensembles. They enjoy a growing social media presence on YouTube, Facebook, Twitter, and other social networks. Jazz In Pink delivers a mixed genre which is primarily Jazz with soul, R&B, symphonic, rock and hip hop undertones. Keyboardist and vocalist Gail Jhonson leads the core ensemble: Tiffini "Worldwide" Walker,/Drums, Kya Karine/Upright & Electric Bass, Tatiana Tate/Trumpet & Vocals, Guitarist Keyanna Hutchison, Yakira/Percussion & Vocals, recording artist Phylicia Rae on Bass, Tomoka/Saxophones & Flute, as well as the talented vocals of Blended By God-Tamina Khyrah-joi and Aanhka Neal. Alum recording artists, Althea René/Flute, Dee Simone/Drums, Kat Dyson/Guitar, Maria Antoinette/Traditional & Electric Harp, Robin Bramlett/Bass, and Karen Briggs/Violin. Guest artists like Joyce Spencer/Saxes & Flute, Teja Veal/Bass & Vocals, and Kechia Potter/Saxes & Flute. Billboard charters Paula Atherton, Dr. Chelsey Green/Violin, Dr. Jazmin Ghent /Sax & Vocals, Brooke Alford/Violin & Vocals.
Since 2008, Jazz In Pink has not only performed throughout the country and around the world, but has worked to fill learning, social, and cultural gaps through community outreaches and events. The talented band consistently captivates audiences. Collectively and individually, members have performed along with Alex Bugnon; Norman Brown; Eric Bent; Bobby Womack; Sheila E; Peabo Bryson; David Benoit; Kirk Franklin; Donnie McClurkin; Yolanda Adams; The Virginia Symphony; Jonathan Butler; George Duke; Stanley Clarke; Wu Tang Clan; Everett Harp; Brenda Russell; Patti Austin; The Time and Yanni.Their CD, 1st Collection, was released in 2014. The latest offering Joy was released 2020. For further information about Jazz in Pink, visit the website at https://www.jazzinpink.com/
Grace Kelly – Saxophonist, Singer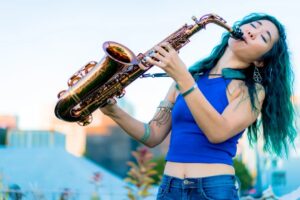 An unequivocal musical prodigy, singer-saxophonist-songwriter-composer and band leader Grace Kelly has rocked the jazz world with sold-out concerts, 14 acclaimed albums and a resume that includes performing at the Hollywood Bowl as well as being part of the house band for "The Late Show with Stephen Colbert" – all before reaching her mid-twenties. As of Oct 2022 she has become the youngest member of the Board of Trustees of Berklee College of Music.
Kelly's early career featured performances at Barack Obama's 2009 inauguration at age 16 and at age 14 as a soloist with the Boston Pops playing an original composition arranged for the legendary orchestra; she has since then played over 1000 shows as bandleader in 35 countries at venues like the Kennedy Center and Moscow Symphony Hall and for the Montreal, Newport, and Montreux
international jazz festivals. Touted for her scorching saxophone stylings and purring vocals, Kelly has performed and recorded with renowned artists including Lin Manuel- Miranda, Dave Brubeck, Lee Konitz, Phil Woods, Huey Lewis, Harry Connick Jr., Gloria Estefan, Questlove, and Wynton Marsalis.
Kelly was named the winner of "Song of the Year" for her single "Feels Like Home" in the 2018 John Lennon Songwriting Contest, and has been named nine times consecutively in the Annual Downbeat Magazines Critics Poll "Rising Star Alto Saxophone" from the age of 17 in 2009 and winning the poll in 2017 (Youngest ever named to Downbeat critics poll in 2009.). She has also won multiple ASCAP Composer Awards, Boston Music Awards, and International Songwriting Awards. She has also appeared as a featured performer in films and television, including acclaimed documentary "Sound of Redemption: The Frank Morgan Story", Amazon's Emmy-nominated original series "Bosch", and featured in the 2017 Emmy-winning Yamaha production "The Right Note"
Kelly is a masterful clinician specializing in jazz improvisation and stage performance. She has taught thousands of students to become more confident performers and players both online and in-person. She is the co-founder of Saxy School, an innovative online saxophone school. She has held a guest teaching residency at The Berklee College of Music and spearheaded the establishment of the Fred Taylor Endowed Scholarship Fund by organizing, emceeing, and performing in the All-Star Benefit Concert in 2017 which raised over $70,000 for the fund.
For further information about Grace Kelly, visit her website at www.gracekellymusic.com, on Instagram at instagram.com/gkellymusic, on YouTube at www.youtube.com/gracekellymusic, on Facebook at facebook.com/GraceKellymusic, on or Twitter at @gracekellymusic
Pamela Hart – Vocalist

Jazz Vocalist Pamela Hart, highly regarded as Austin, Texas' finest jazz vocalist. Noted by Austin Women's Magazine as "Austin's First Lady of Jazz," audiences rave about Pamela's excellent pitch, clarity and soothing vocal quality. Her warm, clear tones and meticulously controlled pitch carry an illusion of effortlessness. Pamela's sultry rendition of classic jazz standards, smooth jazz, contemporary & R&B music wins immediate acceptance by any audience.
Professional, unique, & captivating,… the Pamela Hart performs locally, regionally, and nationally for Concerts, Festivals, Weddings, Corporate Events, Banquets, Night Clubs, and studio recording sessions. Pamela and quartet band have repeatedly opened shows for, and shared stages with, many popular artists including Miss Nancy Wilson, David 'Fathead' Newman, Dianne Reeves, Nat Adderley, Jr., Kirk Whalum, Rachelle Ferrell, Patrice Rushen, Teri Lyn Carrington, Norman Brown & Richard Elliot, Jazz in Pink with Gail Jhonson, Bobbi Humphrey, Althea Rene, Jeanette Harris, Carmen Bradford, Kyle Turner, Jazmin Ghent, Tatiana Mayfield, Michael Ward, and many more.
In addition to regular appearances in local and regional venues, Pamela and her husband Kevin C. Hart have produced the annual Women in Jazz Concert Series in Austin, TX, since 1994-to-date which includes a youth concert series and a vocal performance workshop where Pamela and other professional vocalists and musicians share performance techniques, communicating with musicians and many other aspects of singing jazz.
Pamela's appreciation for the great masters of jazz and R&B is apparent in her intonation, grace and style. She is also a vocal coach and loves educational music youth programs. She was inducted in the Austin Jazz Society Hall of Fame in April 2018. On September 1, 2020, she received the Malindy Award (honoring the Paul Lawrence Dunbar poem "When Malindy Sings") from the JR Cumberbatch Productions, "If These Walls Could Talk" team, and preceded with many other awards and noteworthy recognition.  This year, April 2023, Pamela is nominated as one of five finalists for "Best Jazz Performer – Female" in the Black Music Awards – Houston.
Pamela had become a usual International Association for Jazz Education (IAJE) attendee and performer with the African American Jazz Caucus Band in New York City, Long Beach, CA, and Toronto, Canada. Earlier in her career, Pamela completed European jazz festival tour including the Montreux Jazz Festival, including Vienne and Juan des Pins Jazz festivals, with the Texas State University Jazz Band directed by the legendary Dr. James Polk. In August 2022, Pamela visited Montreal, CN for public stage appearances during her stay there, and the audiences were amazed of her talent, stage presence, and performance.
Pamela's latest CD album released on May 1, 2021 titled "Happy Talk" is currently available on various online stores.  For more information, music, videos, photos and performance schedule, visit http://www.pamelahart.com.