August 11, 2019
Time: 3:00 pm
Venue: Chez Zee 'the Gallery'
Location: 5406 Balcones Drive, Austin, TX 78731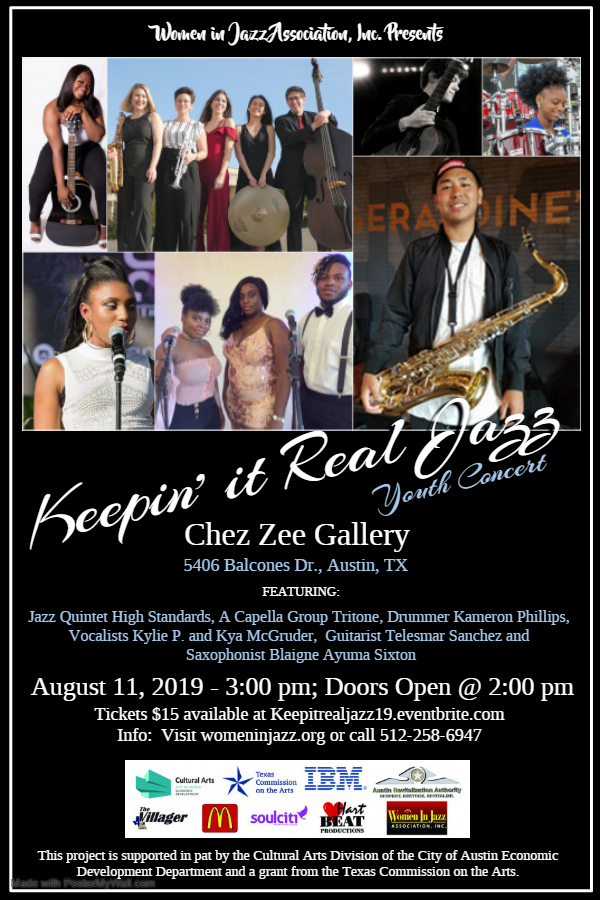 KEEPIN' IT REAL JAZZ YOUTH CONCERT
Sunday, August 11, 2019 * 3:00 pm to 5:00 pm
at the Chez Zee "Gallery" 5406 Balcones Dr., Austin, TX 78731
Women in Jazz keeps jazz alive with a fantastic youth concert on
August 11, 2019, 3-5 PM
at Chez Zee
Featuring:
Jazz Quintet High Standards with
Sarah Milligan- Sax, Rachel Spencer- Trumpet,
Juliana Silveira- Piano, James Suter- Bass,
Masumi Jones-Drums
Singers Kya McGruder and Kylie P.
a capella group Tritone
Guitarist Telesmar Sanchez
Saxophonist Blaigne Ayuma Sixton
and Drummer Kameron Phillips
This vivacious presentation of jazz history will feature some of Austin's most talented youth.
Tickets are $15.00 general seating
and at the door.
For more information, visit www.womeninjazz.org or call 512-258-6947
"Keeping Jazz Alive!"
This project is supported in part by the Cultural Arts Division of the
City of Austin Economic Development Department
and a grant from the Texas Commission on the Arts.