September 7, 2013
Time:
Venue: Riverbend Centre Church
Location: 4214 N Capital of Texas Hwy Austin, TX 78746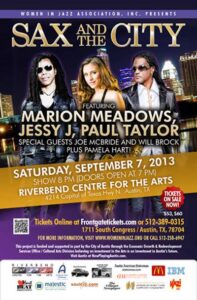 SAX and the City Featuring Marion Meadows, Jessy J, Paul Taylor with Special Guests Joe McBride and Will Brock
Don't miss the saxiest concert of the year as Women in Jazz presents SAX And The City, a smooth contemporary jazz concert featuring Marion Meadows, Jessy J and Paul Taylor with special tuests Joe McBride and Will Brock plus Pamela Hart Sept 7 at the Riverbend Centre for the Arts. SAX And The City captures all of the soulful grooves, dazzling melodies and seductive magic that have become a trademark! The Latin infusion of Jessy J and the awesome smooth of Paul Taylor, together with the east coast funk of Marion Meadows is a must hear and see! Critics and fans alike are raving about the eclectic yet hot sounds of "SAX AND THE CITY." From the Newport Jazz Festival to the Catalina Jazz Trax Festival and the All-Star Smooth Jazz Cruises, Marion Meadows, Jessy J and Paul Taylor have dazzled fans around the world. Sax And The City now comes to Austin, TX. For more information call 512-258-6947 or visit us on the web at
www.womeninjazz.org.
For tickets call Frontgate Tickets at 512-389-0315.
The Women in Jazz Concert is sponsored by AustinWoman Magazine, Austin Cab Company, Black Car Services, Soulciti, IBM, The Villager Newspaper, the Austin Chronicle, McDonald's Corporation Cedar Park, Austin American Statesman, KAZI 88.7 FM Radio,
Soulciti.com
, and HartBeat Productions. This project is funded and supported in part by the City of Austin through the Economic Growth & Redevelopment Services Office/Cultural Arts Division believing an investment in the Arts is an investment in Austin's future. Visit Austin at
NowPlayingAustin.com.