September 30, 2018
Time: 7:00 pm
Venue: Crowne Plaza Hotel, Grand Ballroom
Location: 6121 N Interstate Hwy 35, Austin, TX 78752
Women in Jazz presents
September Song! featuring Sy Smith, Mark Whitfield, & Selina Albright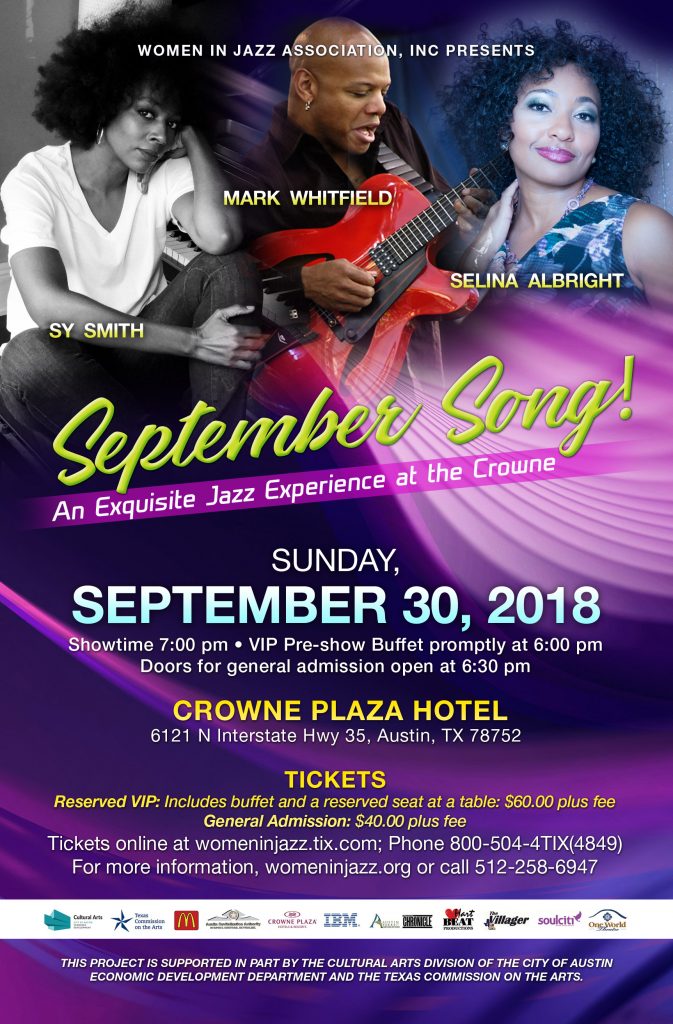 "An Exquisite Jazz Experience at the Crowne"
Showtime at 7:00 pm;
VIP Buffet served from 6:00 to 6:30 pm
General Admission open at 6:30 pm.
This blend of jazz, neo-soul, and jazz-funk will be an evening to remember! Soaring vocals and rhythmic guitar will entertain and delight as these impressive musicians blend traditional and new sounds. These fine artists will be supported by our local favorites Ryan Howard (keys), Michael Stevens (bass), Terrance McDaniel (drums) and Ivan 'Daddy I' Wallace (guitar).
Ticket prices:
VIP Ticket: Includes

à la carte

buffet at 6:00 pm and a reserved seat at a table: $60.00 (+fee $1.50). RSVP by 9/24/18.
Standard Ticket: General Seating (does not include reservation and buffet) $40.00 (+ fees $1.50)
Tickets are available online at womeninjazz.tix.com; Phone at 800-504-4TIX(4849)

For more information, contact Women In Jazz Association:  womeninjazz.org or call 512-258-6947.
Sy Smith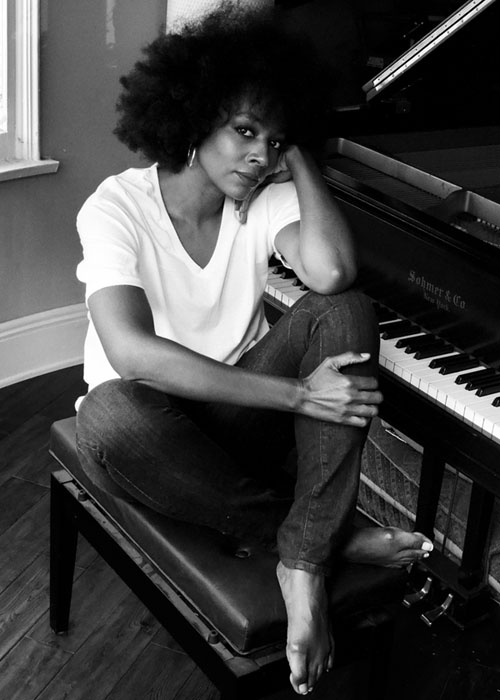 Sy Smith  is long renowned as the "Queen of Underground Soul" for her edgy, progressive mix of funk, neo-soul and R&B, lyrical dexterity, her vocal whimsy (often colored with a very distinctive rhythmic swing that's all her own) and her ability to spin a story like few others in soul music.  Listeners often remark on Smith's vocal range, which moves effortlessly from a speakeasy, gritty alto all the way to a stratospheric soprano whistle register reminiscent of the late Minnie Riperton. This Los Angeles-based singer, songwriter and producer helped cultivate the nu-soul scene.  Sy tours worldwide with trumpeter Chris Botti, and jazz critics have also taken note of Smith's solo performances in her genre-bending presentations.  All 5 of her albums, including her brand new project  "Sometimes A Rose Will Grow In Concrete" have been heralded by critics around the world for Smith's lyrical dexterity, her vocal whimsy (often colored with a very distinctive rhythmic swing that's all her own) and her ability to spin a story like few others in soul music.  Visit http://sysmith.com
Mark Whitfield
Mark Whitfield graduated from Boston's prestigious Berklee College of Music, the world's foremost institution for the study of Jazz and modern American music in the spring of 1987. Shortly thereafter, he returned to his to his native New York to embark on a career as a Jazz Guitarist that afforded him the opportunity to collaborate with legendary artists including Dizzy Gillespie, Art Blakey, Quincy Jones, Ray Charles, Herbie Hancock, Carmen McRae, Gladys Knight, Burt Bacharach, Jimmy Smith, Clark Terry, Shirley Horn, Wynton Marsalis, Branford Marsalis, Joe Williams, Stanley Turrentine and his greatest teacher and mentor George Benson.
In 1990 the New York Times dubbed Whitfield "The Best Young Guitarist in the Business". Later that year, The Warner Bros. release his debut album "The Marksman" led to a recording career that has produced a total of 14 solo recordings and a myriad of collaborative efforts with some of the most important artists in recent years; Sting, Steven Tyler, D'Angelo, Mary J. Blige, John Mayer, Chaka Khan, Jill Scott, Diana Krall, Christian McBride, Chris Botti, Roy Hargrove and Nicholas Payton. The "Whitfield Family Band" has created a brand new recording project. "Grace" was released on January 24th, 2017. It features Mark Whitfield on guitar, Mark Whitfield Jr. on drums, Davis Whitfield on piano, Yasushi Nakamura on bass and the incredible Sy Smith singing the title song, Grace!!  Visit https://www.markwhitfield.com/
Selina Albright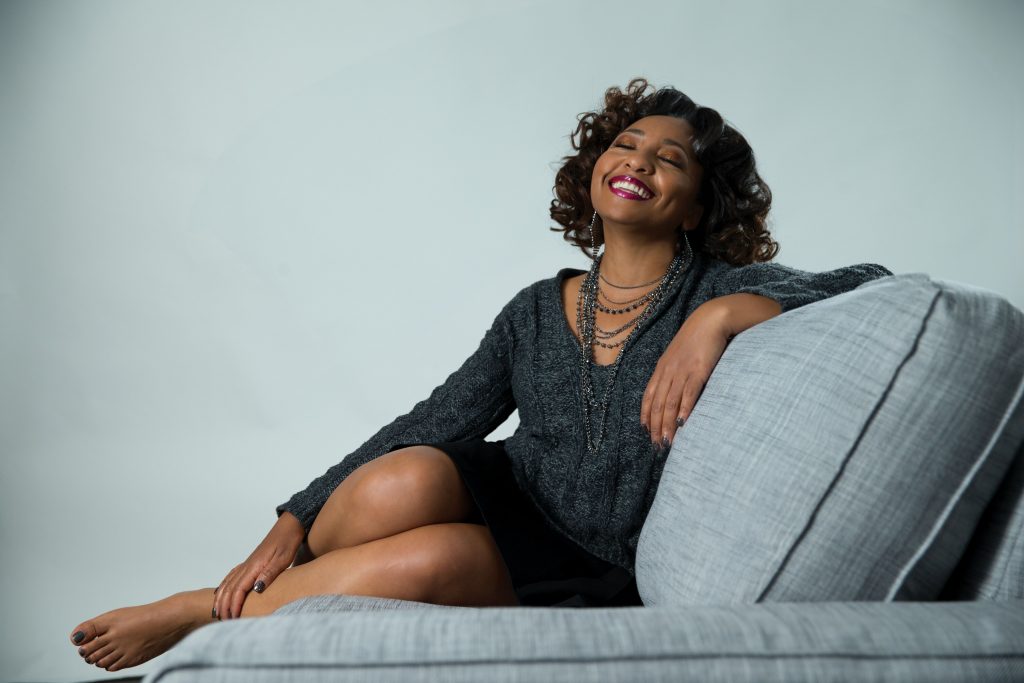 With a last name associated with musical excellence, Selina Albright is a soulful singer-songwriter with versatility that comes from years of listening to many origins and languages of music. Her angelic tone adds character and emotion to any ballad, yet her powerful wailing and energetic stage presence commands attention.  Albright developed her onstage charisma and vocal technique from being exposed to legendary artists, such as Whitney Houston, Take Six, Ella Fitzgerald, Dinah Washington, Beyonce, Lalah Hathaway, and Tina Turner. Her intimate, connective writing style comes from experiences and aspirations from her own life, so that when you listen to her music, you are introduced to a private piece of who Albright is, has been, or is becoming.
Selina appears on Gerald Albright's Grammy-nominated projects, dating back to 1997, with such titles as "Live To Love," "Smooth," "Slam Dunk," and "G."  Her R&B/Soul 2013 release entitled "Brighter" topped the UK Soul Chart for four weeks, and her sassy 2010 Jazz original "You and I," was featured on iTunes' "Top 100 Downloads" list for the genre of Jazz in 2010! Her 2016 single release "Sun Comes Up" (2016) primed the market for her 2017 full-length R&B project entitled "Conversations," featuring Billboard chart-topping, Grammy-considered singles "Eat Something (feat. Kay-Ta Matsuno)" and "Possible."  Selina Albright has graced the stage the world over with many artists, such as pianists Jeff Lorber, George Duke, Joe Sample, Brian Simpson, Brian Culbertson, Keiko Matsui, and David Benoit; guitarists Peter White, Nick Colionne, Norman Brown, Jonathan Butler, and much more.  Visit https://www.selinaalbright.com/
Women in Jazz Association, Inc.sponsors are:
City of Austin, HartBeat Productions, IBM Corporation, McDonald's Corporation, Austin Revitalization Authority, The Villager Newspaper, the Austin Chronicle and Soulciti.com.
This project is supported in part by the Cultural Arts Division of the City of Austin Economic Development Department and the Texas Commission on the Arts.