May 16, 2023
Time: 3:00 pm
Venue: GW Carver Museum
Location: 1165 Navasota Street, Austin, TX 78702
Women in Jazz Association and
George Washington Carver Museum & Cultural Center
presents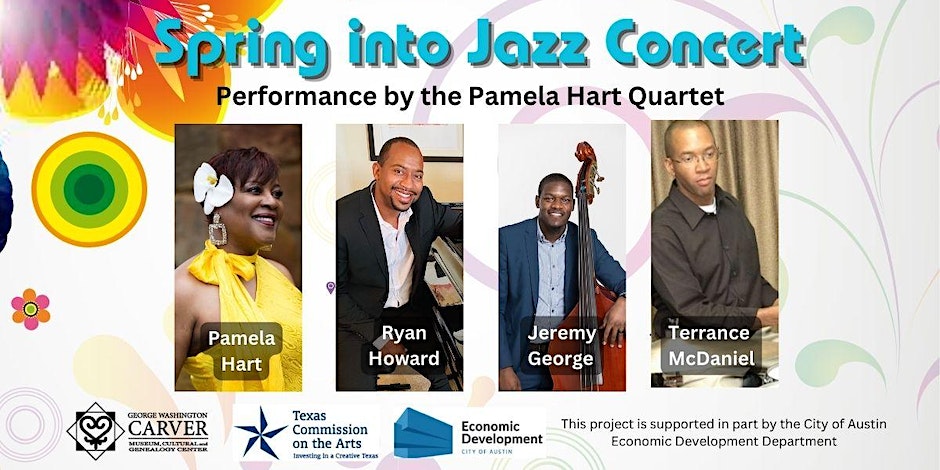 Spring into Jazz Concert
for Seniors and Elders
FREE Admission
RSVP is required. Click here to RSVP!
Tuesday, May 16, 2023 
Doors: 2:30 pm CDT
Showtime: 3:00 pm – 4:30 pm
Reception: 4:30 pm – 5:00 pm
featuring
Pamela Hart Quartet
with
Vocalist Pamela Hart
Pianist Ryan D. Howard
Bassist Dr. Jeremy George
Drummer Terrance McDaniel
Hosted by
Leon Roberts
at
GW Carver Museum & Cultural Center
1165 Navasota Street, Austin, TX
For Seniors only!
Admission is FREE

RSVP is required. Click here to RSVP!
For more information, go to: womeninjazz.org or call 512-257-6947.

Pamela Hart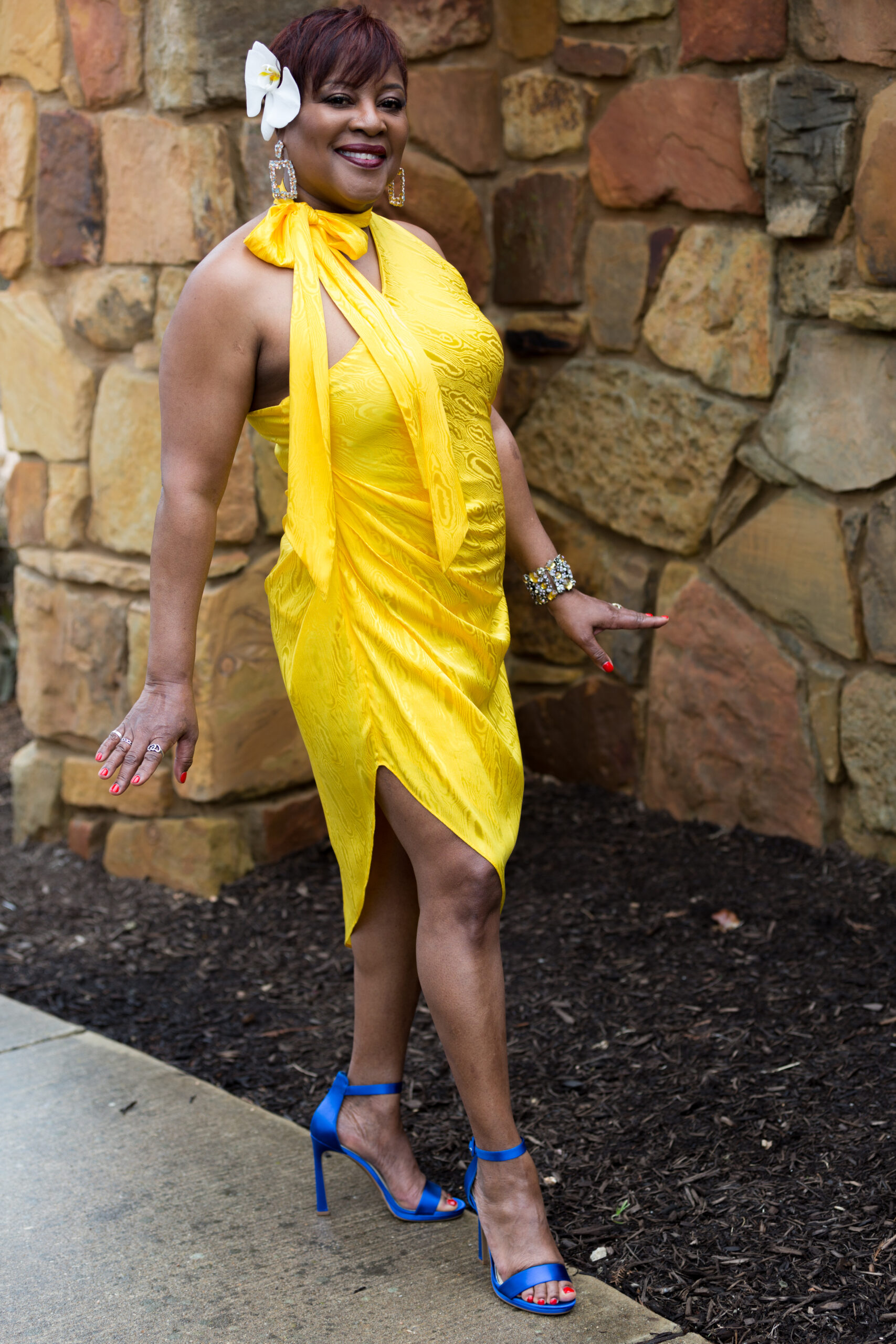 Jazz Vocalist Pamela Hart, highly regarded as Austin, Texas' finest jazz vocalist. Noted by Austin Women's Magazine as "Austin's First Lady of Jazz," audiences rave about Pamela's excellent pitch, clarity and soothing vocal quality. Her warm, clear tones and meticulously controlled pitch carry an illusion of effortlessness. Pamela's sultry rendition of classic jazz standards, smooth jazz, contemporary & R&B music wins immediate acceptance by any audience.
Professional, unique, & captivating,… the Pamela Hart performs locally, regionally, and nationally for Concerts, Festivals, Weddings, Corporate Events, Banquets, Night Clubs, and studio recording sessions. Pamela and quartet band have repeatedly opened shows for, and shared stages with, many popular artists including Miss Nancy Wilson, David 'Fathead' Newman, Dianne Reeves, Nat Adderley, Jr., Kirk Whalum, Rachelle Ferrell, Patrice Rushen, Teri Lyn Carrington, Norman Brown & Richard Elliot, Jazz in Pink with Gail Jhonson, Bobbi Humphrey, Althea Rene, Jeanette Harris, Carmen Bradford, Kyle Turner, Jazmin Ghent, Tatiana Mayfield, Michael Ward, and many more.
In addition to regular appearances in local and regional venues, Pamela and her husband Kevin C. Hart have produced the annual Women in Jazz Concert Series in Austin, TX, since 1994-to-date which includes a youth concert series and a vocal performance workshop where Pamela and other professional vocalists and musicians share performance techniques, communicating with musicians and many other aspects of singing jazz.
Pamela's appreciation for the great masters of jazz and R&B is apparent in her intonation, grace and style. She is also a vocal coach and loves educational music youth programs. She was inducted in the Austin Jazz Society Hall of Fame in April 2018. On September 1, 2020, she received the Malindy Award (honoring the Paul Lawrence Dunbar poem "When Malindy Sings") from the JR Cumberbatch Productions, "If These Walls Could Talk" team, and preceded with many other awards and noteworthy recognition.  This year, April 2023, Pamela is nominated as one of five finalists for "Best Jazz Performer – Female" in the Black Music Awards – Houston.
Pamela had become a usual International Association for Jazz Education (IAJE) attendee and performer with the African American Jazz Caucus Band in New York City, Long Beach, CA, and Toronto, Canada. Earlier in her career, Pamela completed European jazz festival tour including the Montreux Jazz Festival, including Vienne and Juan des Pins Jazz festivals, with the Texas State University Jazz Band directed by the legendary Dr. James Polk. In August 2022, Pamela visited Montreal, CN for public stage appearances during her stay there, and the audiences were amazed of her talent, stage presence, and performance.
Pamela's latest CD album released on May 1, 2021 titled "Happy Talk" is currently available on various online stores.  For more information, music, videos, photos and performance schedule, visit http://www.pamelahart.com.