June 16, 2001
Time: 7:00 pm
Venue: The Paramount Theatre
Location:
Women in Jazz brings back, by popular demand,
Grammy Award winner and Blue Note recording artist
Dianne Reeves
with saxophonist Rachella Parks
Saturday, June 16, 2001
The Paramount Theatre
713 Congress Ave., Austin, TX
8:00 p.m. Doors open at 7:00.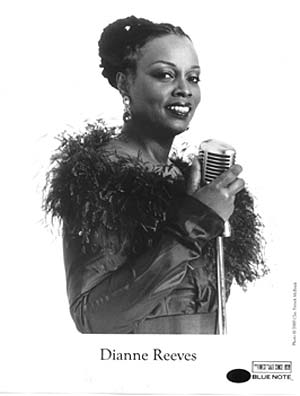 Dianne Reeves new album, The Calling, is a tribute to Sarah Vaughan. Reeves has released eight albums showcasing her unique jazz stylings and her amazing vocal skills.
She is returning to Austin after her very successful performance for Women in Jazz in June, 1999.
Billboard Magazine calls her "simply mesmerizing" while Playboy Magazine states that, "Dianne Reeves may have the most exotic vocal instrument in popular music today." And the Seattle Times said, "Her three-plus, pellucid octaves, diva-like delivery and intimate sense of a song have long made her one of the most compelling vocalists in jazz."
For more information about Dianne Reeves, visit diannereeves.com.