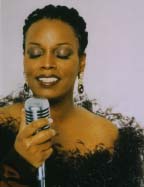 The Women in Jazz Concert Series featured Blue Note recording artist Dianne Reeves on June 4, 1999 at the Paramount Theatre.
A two time Grammy nominated vocalist, the versatile Reeves has upset some critics with her unwillingness to be pigeonholed stylistically, alternating R&B and jazz albums and occasionally mixing the two. Vocally she has a multi-octave range that's warm, dark, and magisterial on the bottom, and light and clear on top. She relies equally on R&B, jazz, and gospel phrasing and inflections, and is thus equally effective no matter what the style, mood, or tempo. Her performance was received with great enthusiasm by the packed house. She promised, "We'll come back! Now that we know what Austin is like, we'll definitely be back." Her songs and stories both charmed and inspired while her vocals dazzled. For more information on Dianne Reeves, visit Blue Note.
The opening act was Women in Jazz's own Pamela Hart, Austin's premier jazz vocalist.