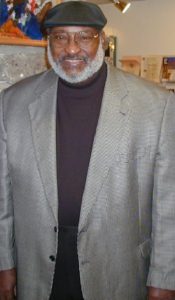 Pianist Dr. James Polk's musical knowledge and worldwide experience spans over more than 50 years. His style, deeply-rooted in the blues, is an example of richness and experience. Polk came up along with a group of incredible Texan musicians; jazz and blues artists like David "Fathead" Newman, Russell Jacquet, Arnett Cobb, Don Wilkerson, and Ornette Coleman, and his sound has that unique Texas flavor. An accomplished musician who has played almost every instrument, Polk was born on September 10, 1940 in Yoakum, and grew up in Corpus Christi, where he initiated his extensive resume. 
In 1959, Polk moved to Austin, where he eventually formed his own band, James Polk & the Brothers, which became one of the first integrated bands in a still largely segregated town. Featuring some of the finest musicians around Austin (Martin Banks, W.C. Clark, Matthew Robinson and Angela Strehli), James Polk & the Brothers also became a "Blakey's Messengers" type music academy for playing blues, funk, and jazz. 
Once invited by Lionel Hampton to tour Europe, Polk is best-known for his work with Ray Charles. From 1978 to 1985, he toured and worked as an organist, pianist, writer, arranger and conductor. He was featured on several of Charles' records, including Ain't It So (Concord, 1979), Brother Ray Is At It Again (Crossover/Atlantic, 1980), Wish You Were Here Tonight (Concord, 1983), and The Spirit of Christmas (Concord, 1985), and was nominated for two Grammy Awards. 
Polk's determination, and his great work with Charles, led to touring all over the world and appearing on many television specials. Furthermore, Polk has been involved in different projects, becoming the pianist/arranger/conductor for artists including Hank Crawford, Zola Taylor and The Platters, and leading several bands such as James Polk & Company and JAMAD Sextet, where he played and recorded with fellow Austin-based musicians. 
Polk's regular performances continue today in Austin, the town transformed by his music. This jazz piano master, who has certainly become a leading figure in the Austin's history and music scene, currently performs as a leader, pianist and occasional singer with his trio, and the Centerpeace jazz Band, with whom he is working on a new album.