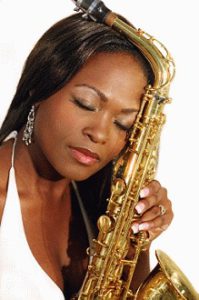 Jeanette Bertha Harris was born on March 9, 1979 in Fresno, California, to Floyd and Annette Harris. Jeanette was introduced to Latin Jazz while attending Roosevelt High School where she played the lead alto in the school's Latin Jazz Band. While attending Bullard High School, she was the featured Saxophonist at one of Bullard's appearances at the Monterey Jazz Festival. She graduated from Berklee in 2001 with a Bachelor of Music with a major in Performance.
Jeanette's love of music and musical performance did not diminish. After her graduation from Berklee, she returned home to Fresno, California to start a smooth jazz band with her brother Michael Harris. The Jeanette Harris Band has played in a number of Jazz Festivals, including the "The Hollywood Park Jazz Festival", "The Inglewood Jazz Festival", "The San Diego Street Festival", the "Riverbend Jazz Festival", the "China Town Jazz Festival" and the "African Village Festival". She's opened for and/or played with the following smooth jazz greats; The Rippingtons; Eric Marienthal; Kirk Whalum; Eloise Laws; Denise William; Phil Perry; Howard Huit; Andre Fischer; Everette Harp; Paul Jackson Jr.; Veretta Hathaway; Debra Laws; Najee; Michael Ward; and Will Barrow. She is currently playing at different spots across the country and hopes to add international venues to her schedule soon.
Jeanette released her first CD, "Here and There" on the J&M Record label.
Her second CD, "Jeanette Harris Live at Platinum Live" and her newest release, "Down Route 99", are on the Sweet Music record label. If you like good music, you will enjoy these CD's. For more information, visit Jeanette's website at http://www.jeanetteharrisband.com/