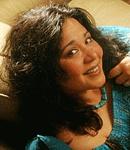 Jeanie Bryson (born March 10, 1958, in New York City) is an American singer with a combination of jazz, pop and Latin music. Her repertoire is based on durable jazz and pop standards, firmly rooted in the Great American Songbook and the legacies of Peggy Lee and Dinah Washington.
While at school with jazz pianist Kenny Barron, Rutgers University, Bryson began to be increasingly influenced by jazz.[3] She has performed throughout North and South America, Europe, Israel and Japan and has received international critical acclaim. In addition to her own recordings on Telarc, Bryson has recorded with Etta Jones, Larry Coryell, Grover Washington, Jr., Terence Blanchard and Kenny Burrell, just to name a few.
In 1994, Terence Blanchard's recorded In My Solitude: The Billie Holiday Songbook, for Columbia, with vocalist Jeanie Bryson. Bryson sings "Nice Work If You Can Get It", "What A Little Moonlight Can Do", "Fine And Mellow", and "Strange Fruit", a smooth, relaxed CD unhurried at its best. Jeanie Bryson 2001 CD Deja Blue gently cradles you with her velvet voice. Bryson is sweet, laid-back, and melodic. Deja Blue is a sultry ballad with an excellent solo by Steve Nelson on vibes.
Lately, fans and critics alike eagerly await Jeanie's newest project, The Dizzy Gillespie Songbook, a loving and fitting tribute that celebrates her father's life, his music, and above all, his legacy.