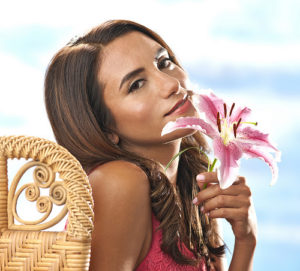 Jessica Arellano (b. December 20, 1982), better known by her stage name Jessy J, is an American musician in the contemporary jazz music genre.
Jessy J was born Jessica Arellano on December 20, 1982 in Portland, Oregon and raised in Hemet, California.[1][2][3] Of Mexican-American descent, her father is from Mexico and her mother is a native Texan. She began playing piano at the age of four.[4] At the age of 15, at the Béla Bartók Festival,[5] she won the Piano State Championship.[4] She also played saxophone in state honored bands, such as the Grammy Band, and played internationally in festivals like the Montreux Jazz Festival in Switzerland. Earning a scholarship to University of Southern California,[6] she obtained a degree in jazz studies and was named the "Most Outstanding Jazz Student". After graduating from USC, she worked in the studio with Michael Bublé.[7][8] She toured with The Temptations, Jessica Simpson, Michael Bolton, and Seal.[7][9] Jessy J also performed as a member of the Henry Mancini Jazz Orchestra.
Prior to being a studio musician and touring as a jazz artist, Jessy J performed on the cast of the Off-Broadway play Blast! She performed not only as a saxophonist and singer but also as an actress and dancer. Touring with Blast! led her across the U.S., the United Kingdom, and Japan.
Jessy J's recording career began after producer/guitarist Paul Brown listened to her demo and gave her a spot on his tour. She soon began making solo appearances. Her first major solo performance was at the Catalina JazzTrax Festival in 2006.[11] Soon afterward, she and Paul Brown were in the studio recording her first album, Tequila Moon.
Since beginning her career, she has toured with other jazz artists, such as Jeff Lorber,[12] Jeff Golub,[13] Euge Groove,[14] Paul Brown, and Gerald Albright.[15] In 2008/2009, she toured as a part of the Guitars & Saxes tour. In 2010 she Toured with Norman Brown[16] and Brenda Russell in the Summer Storm Jazz tour.
Jessy J has built up a Latin following, lending her hand in Hispanic music programs and performing with the Hispanic Musician Association Orchestra.[18] Jessy J had the opportunity to perform at Carnegie Hall with Paquito D'Rivera as part of the Latin Jazz Project.[4] She has also worked in Mexico with artists Gloria Trevi[19] (known as the Madonna of Mexico), Armando Manzanero (whom she calls "the Mancini of Mexico"), Grammy Nominated singer Cristian Castro,[20] Rock of Ages star Diego Boneta, and Sheila E.
Her song "Tequila Moon" hit the #1 spot on the Billboard chart for Jazz.[23] Her song "Tropical Rain", from her 2009 release, reached the top of the Groove Jazz Music[24] chart and also took the #1 spot on the Smooth Jazz Top 20 Countdown,[25] as well as the R&R and Billboard Jazz charts.
In 2008 she was named Radio & Records "Debut Artist of the Year". She also received the "Contemporary Jazz Song of the Year" award from R&R and Billboard for her song "Tequila Moon".
In 2008 Jessy J was featured on the cover of the May issue of Jazziz Magazine.[26] In 2009, she was on the October cover of Saxophone Journal and Latina Style Magazine.
In 2011 Jessy's Album Hot Sauce debuted at #1 on Billboard Jazz and was featured in People Espanol and Latina magazine. The album includes performances by Jazz Legends Joe Sample, Harvey Mason, and Ray Parker Jr.