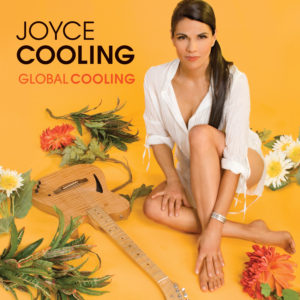 Joyce Cooling, guitarist, vocalist and songwriter, is best known for her eclectic style and colorful body-moving sound. Funky, soulful, and always original, Joyce Cooling is recognized as one of the most dynamic and popular contemporary jazz guitarists in the world.
Joyce has recorded seven albums – five of which charted on Billboard. She has to her credit two #1 radio singles, six top 10 and 13 charting singles in all, and has garnered multiple music awards including the Gibson Best Jazz Guitarist of the Year and Best New Talent in the Jazziz Reader's Poll. She was a nominee for the California Music Awards, the Oasis Awards and the Gavin Contemporary Jazz Artist of the Year.
Cooling has performed with such jazz giants as Joe Henderson, Stan Getz, and Charlie Byrd. Her top-10 single, "Mm Mm Good," featuring Al Jarreau; and Christmas holiday tracks,  "The Christmas Song," with Lee Ritenour, and her original single, "It's Feeling Like Christmas," have pushed Cooling to new heights of popularity while showcasing her musical versatility. Joyce Cooling is a national attraction at major U.S. jazz festivals and has expanded her reach with concerts in Asia, Mexico, and South America.
Global Cooling, released in April 2009, is their seventh studio CD and is receiving worldwide critical acclaim and raving reviews. Global Cooling quickly climbed to #2 on the Amazon Bestsellers List and continues its rise on the SmoothJazz.com radio charts.
Cooling, who is now based in San Francisco, was raised in the New York area in a house that was that was "filled with music." Musical influences include everyone from Joe Henderson, Abbey Lincoln, Wes Montgomery and Miles, to James Brown, Led Zeppelin, Frank Zappa and Jimi Hendrix, to Ravel, Stravinsky, Bach and Brahms, to Hermeto Pascoal, Elis Regina, João Bosco and Jobim. Cooling proclaims, "I just like good music. There are no boundaries with me."
"My teenage years were spent outside of the Village Vanguard and other Manhattan jazz clubs. I was underage, but the bartender at the Vanguard saw how much I loved the music and let me hang out on the steps. I heard everybody! It was fantastic and I was hooked."
A self taught guitarist, Cooling learned to play by ear and has developed a personal style of finger picking, giving her playing a unique sound and feel. "I have always played that way. This wasn't a conscious decision, it was just easier and more natural for me to first sing what I wanted to play and then play it. I was also never comfortable with a pick. I couldn't feel what string I was on so I tossed the pick and played with my fingers."
Joyce Cooling is a national advocate for NAMI (National Alliance on Mental Illness). Joyce has performed at NAMI national and regional events all across the country. A portion of the proceeds from the sale of her CDs are donated to NAMI.
For more information, visit Joyce's website at http://www.joycecooling.com.