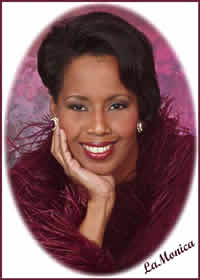 LaMonica Lewis, a native of Austin, began her musical career at age seven as a soloist in the children's choir at Wesley United Methodist Church. She received a scholarship to study voice at the University of Texas at Austin where she studied with Darlene Wiley and Rose Taylor.
Her recording credits include back-up vocals for Tim Curry's contemporary gospel album, Pam Hart's album, Michael Elwood's album "Scarecrow's Prayer" and both solo and choral work on the debut album of the Wesley Intergenerational Choir.
Ms. Lewis performs as a vocalist, organist and conductor for professional organizations throughout the state of Texas. She has performed for Democratic and NAACP conventions and with such Austin favorites as Kyle Turner and Standing Room Only and the James Polk Trio.