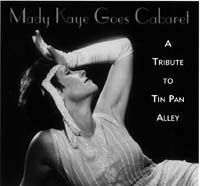 Mady Kaye has delighted Austin audiences for almost twenty years. She is recognized for her jazz styling, impeccable phrasing and frequently improvised lyrics. A most engaging performer, her clear smooth voice and vocal flexibility have earned her rave reviews from New York to Austin. Her CD, "Songs for All Seasons," was released on Valentine's Day 1997. Her 1999 release, "Mady Kaye Goes Cabaret" was recorded live at the Zachary Scott Theatre performance of her cabaret show "A Tribute to Tin Pan Alley: The Golden Age of Song."
In addition to performing at clubs, theaters and festivals, Ms. Kaye is a full time vocal instructor. The 1995 "Critic's Picks" in the Austin Chronicle named her the best professional voice instructor in Austin. She lead the first Women in Jazz Vocal Performance Workshop in September 1995. Ms. Kaye heads a Vocal Performance Workshop for each concert series.
Ms. Kaye is a volunteer at Recordings for the Blind as a reader of music texts.