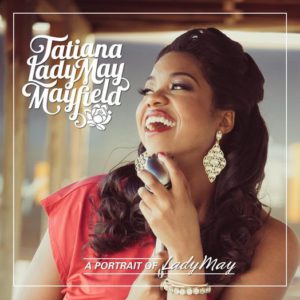 In July of 2013 Tatiana "LadyMay" Mayfield, a 26- year old native Texan, stepped off of an airplane and found herself in the London Heathrow Airport. It was hard to believe…for her. Surreal even. But hard work and pure talent had paid off. A Kickstarter campaign.  Countless concerts and gigs as fundraisers. Constant plugging of her latest album, a masterpiece called "A Portrait of LadyMay.
In the fall of 2012, loyal fans watched LadyMay's social media accounts intently as the song "Real" from "A Portrait of LadyMay climbed to the #1 slot on the "UK Soul Chart." It was time.
Tatiana LadyMay Mayfield had arrived.
Her first tour, LadyMay in the UK, was a success. For nearly a week, LadyMay and her band was widely received on London's top radio stations and popular performance venues such as Ronnie Scott's, Pizza Express in Soho and the Flyover Portobello.
It's no surprise the tour was a hit. LadyMay's fan base is growing daily and it is worldwide. Her listeners hail also from Switzerland, Germany, Nigeria, Brazil and France.
Many of her fans describe her sound and persona as refreshing and beautiful. And jazz lovers relish in the fact that LadyMay seems to be keeping the genre alive and well. Scott Yanow, jazz journalist, described her voice on her first album as "attractive with excellent elocution."
LadyMay doesn't take her career for granted and soaks up moments when she is able to be surrounded by influential jazz artists. In October of 2010, LadyMay was chosen to be one of the 12 semi-finalists in the Thelonious Monk Competition held at the Smithsonian Museum of the Native American in Washington, DC. She sang before an all-star vocal jazz panel of Al Jarreau, Dianne Reeves, Patti Austin, Dee Dee Bridgewater and Kurt Elling. The experience is one that she truly cherishes.
"I got a chance to meet jazz greats Herbie Hancock, George Duke, Wayne Shorter and T.S. Monk. Also at the hotel I got to meet Esperanza Spalding (she was in town doing a show), Gretchen Parlato and Tierney Sutton. It was crazy!"
She has also opened for other well-known artists such as Kirk Whalum, Randy Brecker, Dave Valentin, Bobbi Humphrey and "The Main Ingredient".