Theresa Grayson – Saxophonist / Vocalist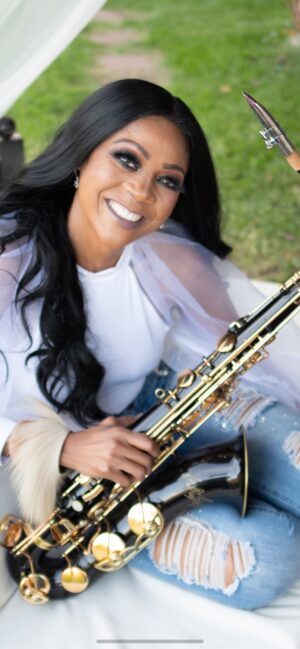 THERESA GRAYSON is a music educator and saxophonist in the Houston area. While embarking on her solo career. Gospel saxophonist. The Texas based saxtress has Performed in her home town of Houston. And most of the state's major Cities with her own band, and two Renowned cover ensembles.
She has since shared the stage and opened for notable contemporary jazz artists like, peter white, Marion Meadows, Mindi Abair and Ronnie laws, as well as vocalist Michael Bolton and will downing over the years. Grayson has performed at the 3rd Annual soul fest in Austin Texas. Redcat jazz festival, Zachary Breaux Jazz festival, women in jazz festival, Baltimore, Maryland's aframed festival, long Beach jazz festival, one cruise, Yolanda Adams wellness tour, dr. Bobby jones gospel artists show case, Vail, Houston International Jazz Festival.
From the socially conscious, spoken word intro on the jazzy grooving track "Atmosphere," through the multicultural fusion of "World Kall" (featuring chanting vocals, Eastern instrumentation, African percussion, Latin guitar, violin, and tropical vibes), Grayson devotes herself to a mission to make her full-length collection, World Blue, a true global journey celebrating the multi-cultural magic of music.
Theresa perfromed in the Women in Jazz production – 'Tr3ple Threat in Concert' featuring Gina Payne,  Yo Jonesy, Theresa Grayson on December 11, 2022 at the Sterling Event Center in Austin. TX.  The referenced live steam concert is available for viewing on YouTube.com. This is the promo leading into the show. https://youtu.be/miSKoGFeu98
This project was supported in part by the Cultural Arts Division of the City of Austin Economic Development Department and a grant from the Texas Commission on the Arts.