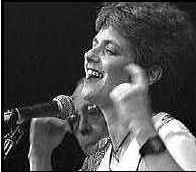 Tina Marsh is artistic director and vocalist for Austin's Creative Opportunity Orchestra (CO2), an innovative group dedicated to composing and improvising progressive jazz music. Ms. Marsh began her music career in New York. She moved to Austin in 1977.
CO2 recently created Alchemy a performance piece in which Marsh combined theatrical elements, spoken word, video and jazz, opera, gospel, and avant garde music. Alchemy was co-produced by The Performing Arts Center at UT Austin in 1996.
Ms. Marsh is Artist-in-Education at Becker Elementary and Parkside Community Schools. High Performance Magazine called Marsh, "A highly gifted and exciting specialist in skat and experimental vocalism." In 1996, she was named to the Clarksville Jazz Festival Hall of Fame.
The Creative Opportunity Orchestra has several albums including Benediction, RADIOactive, Transformation, and The Heaven Line and an album of spirituals and lullabies.