April 23, 2017
Time: 7:00 pm
Venue: One World Theatre
Location: 7701 Bee Cave Road, Austin, TX 78746
Four Women: A Tribute to Four Great Singers
Songs made popular by Nina Simone, Nancy Wilson, Dinah Washington and Peggy Lee

The Women in Jazz Association, Inc. continues its tribute series with 'Four Women: A Tribute to Great Singers.' Pamela Hart, Jacqui Cross, Akina Adderley and Jacqui Walker will perform songs made popular by Nina Simone, Nancy Wilson, Dinah Washington and Peggy Lee. These performances are in line with Women in Jazz' mission to keep jazz vocals alive and strong. Surely, we will see and hear a wonderful performance from these four beautiful and talented women who have unique sounds of their own.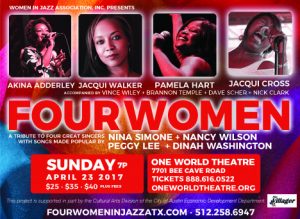 Akina Adderley is a vocalist, songwriter, bandleader, conductor, and educator based in Austin, Texas. Nicknamed 'the little woman with the big voice," sometimes a soul singer, sometimes a jazz songstress, Akina always moves you with what the Austin American Statesman calls her "rich, emotive pipes."
Jacqui Cross is best known for her theater work at the State Theater, Zach Scott Theater and Spectrum Theatre Company.  She has starred in Dreamgirls, Rockin' Christmas Party, Beehive, The Buddy Holly Story and much more.   Jacqui has won several Awards for her work.  She was voted in 2015 was voted the winner of the 2015 Central Texas Excellence In Theatre Awards for Best Supporting Actress in a Musical for Hairspray.
Pamela Hart, Austin's First Lady of Jazz, warms the heart of any audience with her pitch, clarity, and presence.  Pamela has shared the stage with her idol, Miss Nancy Wilson, and has opened and shared the stage with many other national acts such as Dianne Reeves, Rachelle Ferrell, Kirk Whalum, Patrice Rushen, 'Fathead' Newman, Jazz in Pink, and more.
Amidst the ballads and impassioned lyrics, the instrumental breakdowns within songs, Jacqui Walker's ethos shines through like a red hot sun. Though the crunchy keys and amped up boogies found on her self-titled debut emote rock & roll in its truest, Walker, came by way of the style in a rather atypical fashion.  She was a student at the University of Pittsburgh when she got tabbed to perform as the jazz queen Billie Holiday in a one-woman performance of Rob Penny's Crawford Grill Presents Billie Holiday.
See Jacqui Walker perform "I Put A Spell on You" at the Women in Jazz Concert April 2017.